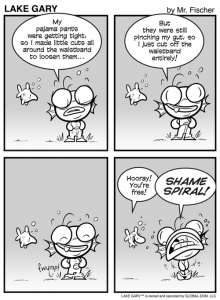 We're going all over today. Hope that's not a problem.
---
Spam of the day:
Protect and Beautify Your Garage Floor (criminals)
So much potential! Is this a call for criminals to protect and beatify their garage floors? Or perhaps an indictment that those who would protect and beautify such floors (destroying their heritage nature, perhaps?) are reprehensible to the point of criminality? I can't wait to find out.
________________
¹ As near as I can tell, she's the first; the browse-the-Fellows app at the MacArthur Foundation page doesn't have a category for "Cartoonist" on its picklist, and in a quick browse of all Fellows in the catch-all category of "Arts" i didn't find any others.
² A campaign I have been on since 2006.