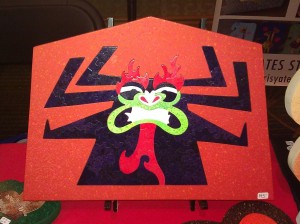 Because honestly, if you're writing about [web]comics and can't find a way to fit Brad Guigar in there somewhere, you aren't trying very hard.
Chris Yates was at SPX and yet I didn't mention him yesterday — oversight, or planned thing? In all honesty, a little of both, but mostly I wanted to run that photo up there on a day when nothing else would detract from it. Like all of Yates's work, this Aku Baffler! is a gorgeous, precise piece of work, and I wanted to share it with you.

You can catch up with Mr Yates as his peregrinations take him up the east coast towards Queens, and the World Maker Faire therein this weekend. People that Make¹ stuff always dig Yates, so if you want a shot at some of his best work, you'll have to make² your way to the bedroom borough and check out the scrollsaw work.

Speaking of Aku, Jim Zub not only continues work on Samurai Jack and a zillion other comics, he was also in Maryland this past weekend, although over on the coastal part. He and Chart Polski were in Annapolis brimping their way through an in-store signing of their latest work; it would have been nice to see them in Bethesda, but they were on a whirlwind fast-turnaround schedule.

Nevertheless, in that time, Mr Zub found the time to put me on the distribution list for a preview of his forthcoming official Dungeons & Dragons tie-in comic, Legends of Baldur's Gate, which I loved and will be buying when it releases next month. It's got that trademark Zub flair for mixing the right amount of humo[u]r and ridiculousness with solid fantasy, but the real thing that caught me was the essay at the back of the issue which I will now quote from:

Jim Zub the storyteller exists because of Dungeons & Dragons, the game.

Right from the start, I could tell this wasn't like any other game I'd ever played before. No cards, no board, no limits. No matter how young or small I was in real life I could create a character just as capable as the adults I was playing with. The Dungeon Master asked us what we were doing and my decisions, along with nerve-wracking rolls of the dice, had as much value as anyone else's at the table.

If I did something memorable, the group would laugh and I got to feel like one of the grown-ups. Unexpected banter, battle cries, one-liners — I wanted to entertain everyone and make sure my character left an impression.

As the years went by, I grew up and roleplaying games grew with me. I moved behind the DM screen and started building grand adventures for my friends to quest through. Drama, plot, dialogue, pacing — all those core creative skills were honed by sitting around the gaming table using my imagination.

Getting the chance to tell a Dungeons & Dragons story as part of the game's 40th anniversary, carving out a new chapter in the fabled city of Baldur's Gate … it's wonderful, ridiculous, and surreal all at the same time. Somewhere inside of me there's an 8-year old Li'l Zub screaming with joy as he runs around the house pretending he's kicking skeletons in the face.

When issue #1 releases, take the time to read the entire thing; it's as loving a paean to the twin values of imagination and play as ever I can recall. Also, I now want to see an Adventures of Li'l Zub backup strip in this book. Bonus points if we can get Chris Eliopoulos or Skottie Young to draw it.

Also not at SPX, because he was busy leading a Shakespeare Festival? Ryan Estrada. But that's okay, he's made up for it by teaching us to read another foreign language as part of his Gimme Five project. This time, he's teamed up with Peter Starr Northrop so that we can all Learn To Read Russian In 15 Minutes and you know what? It works. I may not have any idea what the words mean, but I can now read Спокойной ночй, Gracie³ without too much difficulty. Okay, my accent needs work, but it's a start.
---
Spam of the day:
Still nothing good. I am not necessarily upset by this turn of events.
________________
¹ … people … are the luckiest people in the worrrrrllllld.
Sorry.
² So to speak.
³ This gag courtesy of Brad Guigar's failure to get a reaction from his students today despite dropping some classic laugh-chuckles on them. Kids these days., which I loved and will be buying when it releases next month.