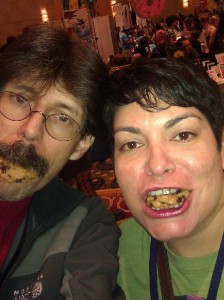 SPX is done for another year, and it's pretty safe to say that everybody who attended is looking forward to next year with the most baited of breath. It's a show that's just the right size, in that you can see everything in a few hours, but also spend the entire weekend in deep dives if that's what you want. I didn't have the entire weekend, alas, but I did manage to see the show floor on Saturday and have no regret except not being able to spend more time with everybody¹. Thoughts as they occur to me:
Right, SPX. Got distracted for a minute there.
Becky Dreistadt and Frank Gibson are super excited for their Capture Creatures series, coming in November from BOOM!
Dean Trippe tells me that the print version of Something Terrible is with the book designer as we speak.
Tom McHenry, whom I'd never met in person before, is a far more normal person that I would expect to ask people what they named their horses and get excited when I 'fessed up that my horse was named Buttplumber.
Carla Speed McNeil viciously underprices her original pages. I came home with three — two of them from the just-released Third World collection, which I have been obsessively reading and re-reading for the ten days or so since I picked it up — and I seriously considered taking out a second mortgage in order to buy the entire bin she had on her table. If you are not reading FINDER you are missing out.
SPX remains a readers con, with multiple creators (among them Dahm, Jon Rosenberg, and Spike) expressing delight on social media at how much less stock they took home than they brought. Spike, in particular, was essentially sold out on Saturday, some hours after she promised me that she's getting back to Templar this month, dammit.
Power couples: Yuko Ota and Ananth Panagariya are maybe the living embodiment of Zen patience. Ota's well-documented wrist difficulties4 are keeping her from drawing (or even signing!) at present, but they are dealing with the situation with admirable calm and equanimity. They shared booth space with Tom Siddell and Magnolia Porter, both of whom are presently doing the best work of their respective careers, and the latter of which was presented with a fan-made, near life-size plush of her character Rixis.

They were directly across the aisle from Raina Telgemeier and Dave Roman, who are gearing up for the Princeton Book Festival next Saturday. Telgemeier was sporting a wrist brace which she assured me was precautionary: the last time she went on book tour (as she is now), she went to the National Book Festival (as she just did) and signed about a thousand books in a short period of time and blew out her wrist and then had to go home and draw a book (which became Sisters). Here's hoping the precautions work, but at least for now she and Ota get to be wrist-brace superhero buddies.

Meanwhile, creator duo Braden Lamb and Shelli Paroline — so well known for their collaborations with Ryan North — have the time now that Midas Flesh has wrapped to put together their own story and series pitches. With any luck, in a year or so we may see something that they've written as well as drawn, and in the meantime they remain busy. Busy's good.

Kel McDonald is having a blast working with Dark Horse on the Misfits of Avalon print collections (the first of which is out next month), and remains her usual, unflappable, hyperorganized self. How organized? She won't be putting up the Kickstarter for the next Cautionary Fables anthology until the end of 2015, and she's already got her contributors on lockdown more than a year in advance. Somebody come up with a planning calendar app and get McDonald to endorse it.
Tony Breed, by all accounts, KILLED it in the DJ booth at the SPX post-Ignatz dance party/prom. I'd never met him before and he struck me as an amazing nice guy. I picked up a copy of his mini of recipes in comic form, which makes me wish that Recipe Comix was still a thing oh wait look, it is. Also amazingly nice: Jess Fink, who in a just world would be in the midst of a bidding war from competing publishers for the soon-to-finish Chester XYV 5000: Isabelle and George. I am an entirely straight dude, and yet I had to tell Fink how thrilled I am to see that those two dudes are about to get down to some serious gettin' it on. I think it's my innate desire for George and Robert to get a happy ending, so to speak.
I know I'm forgetting people; mea maxima culpa.
New To Be or Not To Be artist signatures obtained count: 25.
---
Spam of the day:
Nuthin' good. Sorry.
_______________
¹ That, and I completely lost track of time and missed Raina Telgemeier's spotlight panel.
² I was already driving home by the time the awards got underway, so Heidi Mac's writeup was invaluable to me.
³ To be clear, I voted for Shiga for Outstanding Series (which he won) and not for Outstanding Online Comic (which Dahm took), and I voted for Goldsteinn for both Outstanding Minicomic (which she won) and also Outstanding Artist (which went to Sam Bosma, which you can't really argue with). Likewise, while I backed Gene Yang's Boxers & Saints for Outstanding Graphic Novel, you can't really get upset with that one being won by Jillian and Mariko Tamaki for This One Summer.
4 Taking advantage of the fact that I am totally ordained, I attempted a faith healing of Ota's wrist. I don't think it worked, despite invoking the spirits of Kirby and Herriman.