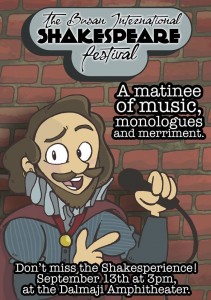 Much of [web]comics is on the move today, heading to sunny Pismo Beach and all the clams you can eat Bethesda, Maryland and SPX. Me, I'll be driving down for the day tomorrow, waaay too early, so if you see me on the floor and I don't recognize you, my apologies.
Meanwhile, on the far side of the globe, Ryan Estrada reports that tomorrow morning (which may be about now, given time zones) that he will be (already is?) the MC of the inaugural Busan International Shakespeare Festival, with twelve teams of performers from around the world. It's all thanks to a group of expats in Busan that love Shakespeare, and who may be the same group of crazies (or at least significantly overlap with them) that put on the live-action Choose Your Own Hamlet as part of Ryan North's Krazyass Kickstarter.
So what I'm saying is, wherever you are in the world, there is entertainment to be had this weekend so get on that.
---
Spam of the day:
That is a good tip especially tto those new to the blogosphere.
Brief but very accurte info… Appreciate your sharing this one.
I'm not sure, but I think the first line and second line each form a haiku. I guess it depends on how many syllables are in accurte [sic].