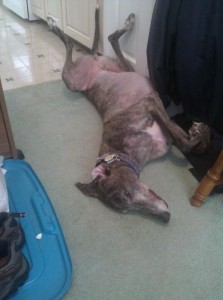 This just in: my dog is ridiculous. Dude was just napping like that all afternoon until the sleep wore him out and he flopped his legs over onto the floor without otherwise moving. I'm not entirely sure, but I think he might have modeled for the Spider-Woman cover that everybody finds ridiculous.
The Harvey Awards have always been the comics awards that are the most insider-basebally, what with the voting being restricted to the pool of comics professionals. For whatever reason, they've also had an an occasional tendency to be somewhat lackadaisical about distributing information once the ballots are in — they were given out over the weekend at Baltimore Comic Con and there still isn't an update at the Harveys official website to indicate winners¹. As such, I'm basing my information on that supplied by Heidi Mac on Saturday night.

Best Online Comics Work went to Mike Norton for Battlepug, which he also won last year², in addition to the Eisner in 2012; although I would have given the nod to Gunnerkrigg Court, it appears that Norton's peers regard him highly. Either that, or webcomickers don't vote in the Harveys.

There was also a run of Canadian webcomics (or webcomics-adjacent) winners, as Ryan "Muscles" North took the Special Award for Humor in Comics for Adventure Time, which book was also the winner for Best Original Graphic Publication For Younger Readers (which it also won last year), and Chort Zubaz was recognized as Most Promising New Talent³, as well as being co-recipient of the award for Best New Series on Sex Criminals.

Adding in the Humor in Comics recognition for Kate Beaton in 2012, and for Bryan Lee O'Malley in 2010, there's a strong argument to be made that the category should in future years just be renamed Funny Person That's Essentially From Toronto4 (a distinction that would preserve Jim Zub's shot at the trophy next year). Fleen congratulates all the winners.

Fleen also reminds all attendees of SPX this coming weekend that they get to vote on the Ignatzes (Ignatzen?). Since it looks like I'll be driving down for the day, I'm throwing my vote for Outstanding Online Comic to Evan Dahm, Outstanding Graphic Novel to Boxers & Saints by Gene Luen Yang, Outstanding Story to Meredith Gran for Brownout Biscuit. Those were some tough decisions, what with the likes of Jason Shiga's Demon, and This One Summer by Jillian and Mariko Tamaki and more.
In other news: It's official now, can't go back on it, The Sculptor is on its way and nothing short of the destruction of all life on Earth will prevent it from ending up in my hands, dammit.
---
Maybe spam of the day:
Out of curiosity, where would you get medical grade superglue? I've used the normal stuff in a pinch before, I'd be more comfortable with something designed for the purpose. Is there a store you'd recommend getting it at?
It got caught in the moderation filters, but on the other hand it's not trying to sell anything, is rather specific to something I wrote, and reads like it was written by a human, so I'm giving this one the benefit of the doubt.
I didn't have any medical grade superglue, since it's a by-prescription device, so I had the sticky stuff applied by the Emergency Department of my local hospital. Also, given that the medical device in question is prescribed, I'd trust any place that's offering it for sale about as much as I'd trust places selling boner pills.
_______________
¹ For that matter, the list of Previous Awards & Nominees stops in 2011; there's nothing listed for 2012, and while the ballot for 2013 is present, no list of winner will be found there.
² The Harveys have a habit of repeat winners in the category, with Perry Bible Fellowship winning in 2007 and 2008, and Hark! A Vagrant in 2011 and 2012.
³ Despite not being new to the game at all, what with having his own convention and all. Odd award, that one.
4 For the current decade, Toronto has apparently been the locus of funny comics, with a quick detour to New Zealand/UK for Roger Langridge in 2011. Apparently, in the modern world, comics spells humor with an extra "u".