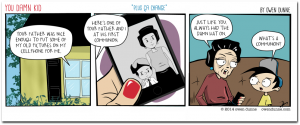 Hey, welcome to the holiday edition of Fleen, where we are taking the day the heck off.
That being said, I would be entirely remiss if I didn't let you know that the latest hiatus has resolved, and You Damn Kid (The Next Generation) is now live at OwenDunne.com. As you may have surmised from my parenthetical comment on the strip's name, Dunne is not only updating with new comics away from the old domain, he has time-jumped forward from the 60s to the present day. The Kid now has his own (highly similar) son, and I imagine that while Dunne didn't mind referring to his younger self as "You Damn Kid", he may well feel different about tagging his own sprog too closely with such a moniker.
What with the time jump¹ and all, not all the characters from the original strip will still be alive; here's hoping that Jethro and The Poz made it, and I'm pretty sure some of the ancient nuns are functionally immortal. While Dunne works at fancying up his website, YDK:TNG will appear in the blogroll next to YDK:TNG; at some point when the archives get unified, I imagine there will be enough internal pointers for you to hope to the oldschool or newschool versions; undoubtedly, we'll get some annotation in the characters list to indicate which time frame each character lives in.
For me, I'm just happy to be seeing Dunne update again, after five years away; look for the all new You Damn Kid on Mondays, Wednesdays, and Fridays.
---
Spam of the day:
Hi Gary,

Wanted to send you a few images (LINK AND CAPTION BELOW) from an event that we had today to celebrate SUBWAY's birthday! Jared the SUBWAY Guy joined forces with Star Wars Stormtroopers and kids from the Boys & Girls Club of Bridgeport, CT (home of the first SUBWAY restaurant). For the month of September & October, fans can stop into SUBWAY to receive a special Star Wars Rebel bag, free with every kids meal purchase!
Judges Scores:
Coming via email instead of blog: 2 points out of 2
Addressed to me personally instead of spewed out randomly: 2 points out of 2
Providing both an attached medium-res photo and link to a hi-res version: 2 points out of 2
Brevity: 1 points out of 2
Command of English language: 2 points out of 2
Penalties:
Seriously overestimating the appeal that pictures of Jared the Subway Guy with Stormtroopers would have for readers of this page: -3 328 987 points out of 10
Total: -3 328 978 out of a maximum possible 10.²
Thank you for your time, and please enjoy this photo of Wil Wheaton collating papers.
________________
¹ Time Jumps: Not just for Funky Winkerbean!
² This would involve maxing all five scoring criteria and accumulating no penalties.