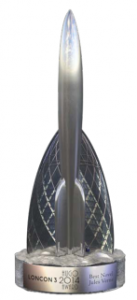 There's an intersection of three different awards that include comics that have come together. Let's take them in turn.
Last night at LonCon, they gave out the Hugos, as we noted in the recent past. I was hoping, but didn't really think it would happen: the award for Best Graphic Story went to Randall Munroe for the xkcd update known as Time. Look at the other nominees: the latest Girl Genius chapter by Phil and Kaja Foglio with Cheyenne Wright (who won this category the first three years of its existence), a Doctor Who story by the author of the all-time favorite two-parter Human Nature/The Famiy of Blood, an adaptation of a George RR Martin story, and Saga, the most justly-celebrated comic on the shelves right now (and last year's winner). And yet the winner was the one entry that could only exist in the digital realm — 3101 frames, released over a period of months. Well done, Randall.
The Harvey Awards are unique in that the electorate is made up not of a expert jury or whoever cares to attend a particular convention — these are voted on by working comics professionals, so we get to (in theory, at least) see what the people who make comics think are the best work of their peers. Final ballots (which can be submitted electronically) are due today, and if you make a webcomic you count as a member of the industry.

The Best Online Comics Work category will choose between Mike Norton's Battlepug (a previous Eisner winner), The Dreamer by Lora Innes, Tom Siddell's Gunnerkrigg Court, JL8 by Yale Stewart, and Table Titans by Scott Kurtz, Mary Cagle, Steve Hamaker, and Brian Hurtt. Much as I like Table Titans (it's probably going to be Kurtz's career-best work), and despite terrific work from him for years now, I think that Siddell is long overdue for recognition. A'course, I don't get a vote, and those of you that do may we disagree. We'll find out who gets the honor at Baltimore Comic Con, specifically on Saturday, 6 September.

A week later at SPX, the annual Ignatz Awards will present their ceremonial bricks, and the final ballot was released today. Given the focus of the Ignatz on indie comics, there's a fair amount of overlap between those that might be considered purely webcomickers, and those that might be described as webcomics-adjacent. Nominees that caught my eye included a dual nod to Sophie Goldstein for Outstanding Artist (for multiple works including Darwin Carmichael is Going To Hell) and Outstanding Minicomic (for House of Women). Outstanding Graphic Novel is heavy on the :01 Books library, featuring Boxers & Saints and This One Summer by Jillian and Mariko Tamaki.

Outstanding Story nominees include Meredith Gran's Octopus Pie story Brownout Biscuit (collected in Dead Forever). Jason Shiga has two nods for Demon, in Outstanding Series and Outstanding Online Comic, where he is joined by Anya Davidson's Band For Life, Dane Martin's Big Dogs At Nite, On Hiatus by Pete Toms, and Vattu by Evan Dahm. It looks like most categories will be tough for the SPX voters to decide, but given how much I love Darwin, Octopie, and Gran, I'm hoping that the Brooklyn-resident (formerly, in Goldstein's case) contingent brings home the bricks.
---
Spam of the day:
At the completion on this meeting, the student
should submit a memo to committee members summarizing that which was agreed upon during the meeting.
Your way with words-at all will not impeded by whatever method you choose to use.
Your command of language is such that I will absolutely take your guidance in trying to obtain a graduate degree. Honest.