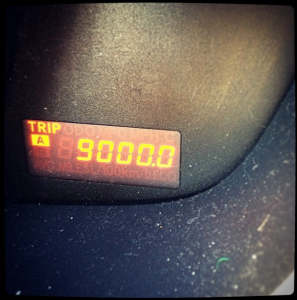 That is, I'm looking forward to the weekend, much like Calvin's Yukon Ho!; I am not referring to anybody as a ho, for the weekend or otherwise.
9000-plus miles¹, dozens of personal appearances, six weeks of excellent guest strips, and at long last Danielle Corsetto can sleep in her own bed tonight. What did we learn?

Danielle Corsetto is such a webcomics machine that she needed four assistants to keep up with her in various parts of the trip.
Had she not engaged in careful planning, the entire back third of the tour would have been without books; she sold so strongly in the first couple of weeks, she had to make emergency shipments of fresh stock ahead. As it turned out, she didn't do much re-packing of the car after any of her signings.
When it comes to her characters, people want more Thea and Mimi (stars of two guest weeks); me, I was hoping for some quality Clarice and Joshua time, but maybe now that Danielle's back. Also, Hazel's mom is badass.
Whatever needs to happen in order to incorporate these guest weeks in a future print collection must be done. Hold a Kickstarter to pay the guest artists more for the reprint rights, I'll chip in. These were wonderful.

It's been a damn busy time for Dean Trippe for the past year or so; Something Terrible changed the direction of his life (and that of many, many other people), and it must have produced an intense desire in him to get the print version exactly right. Looks like he's finally satisfied that the epilogue will meet his exceedingly high standard:


Thanks for all your patience and support this year. It's been great, and terrible, and up-lifting, and soul-crushing, and all of it has been worth every minute to connect with other Batfans and fellow survivors of Child Sexual Abuse. Remember I said to watch for my signal? This is it. Let everyone know. It's time.

For those of you who didn't get in on the Kickstarter, you can order a copy of Something Terrible in hardback, and if you weren't among the (criminally small) audience at Trippe's San Diego panel, you can listen to it now. Oh, and Eisner nominating committee for next year that has yet to be named? Don't repeat the oversight of not nominating Trippe for Best Digital Comic this year. He'll be eligible in whichever print categories and he damn well deserves the recognition.

Randall Munroe's forthcoming What If? print collection, reviewed by Jorge Cham for American Scientist. Despite the title of the review, I encourage any and all curious individuals to try to replicate Munroe's work, just way the hell away from me since most of them seem to result in the erasure of a significant percentage of the Earth, or Earth's population.
---
Spam of the day:
The coal that you just use in your backyard for barbeque performs far more important functions such as generating electricity for individuals in thermal power plants.
Charcoal and coal are not the same thing, by a factor of a couple of million years. Hey, Randall, care to explain the difference to this bozo?
_______________
¹ Or pert-near 15,000 kilometers, if you use proper units.