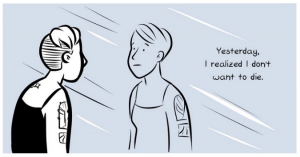 There's a million of 'em running around out there, and I'm up to my ass in alligators with one right now. Let's look at what people are doing, shall we?
Spam of the day:
Few women know about the tiny, ever-busy microorganisms that inhabit our digestive system, how vital they are to our wellness, and what can be done to help them flourish.
Please don't let this be an advert for gray-market transpoosions.
_____________
¹ Registered trademark, one of the Akbar & Jeff Hut-based businesses, can't remember which.
² Until recently, the digital editor for Saveur magazine, and thus responsible for both the Recipe Comix series and much of Lucy Knisley's overseas food comics reportage.
³ Force of nature and sportin' arms that could bust a man down on into his component pieces.