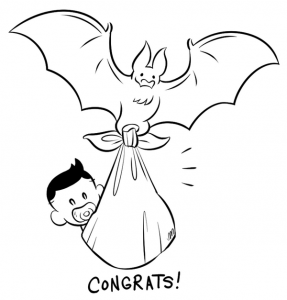 The first notice came on Monday morning, and except for the expected news some seven hours later, details were thin. Had the Straubchild entered the world already, a world not ready for something so good, so pure? Signs pointed to yes, and while confirmation has not been made public, neither have the many, many expressions of congratulations been dismissed. It now being Wednesday, it seems safe to assume that Kris and Marlo have welcomed their first young'un into their lives, and may soon (give it a week or so) stop bursting into spontaneous, happy tears.
Welcome, little one. I wasn't kidding when I said that you were too good for this weary, broken world; we'll try to make it better by the time you'd notice. Try to give your parents the occasional full night's sleep, and be sure to provide your dad with lots of creative juice. It's a weird, wonderful thing, life, and welcome to it.
*****
Webcomickers not making their way towards Indianapolis for Gen Con¹ (a partial list of which may be found in yesterday's post) may be instead making their ways to other shows happening in the immediate future.
LonCon, in London, Merrie Olde Blighty, is the site of this year's World Science Fiction Convention and the Hugo Awards therein; Professor & Professoressa Foglio, Ursula Vernon, and a whole mess o' writers will be there. Webcomic nominees for Best Graphic Story² include Los Foglios for Girl Genius volume 13 and Randall Munroe for Time.

Howard Tayler is, for the first time ever, not nominated in the category, as no Schlock Mercenary story finished in the window of eligibility. Next year for sure! He is however, nominated along with the rest of the Writing Excuses crew (Brandon Sanderson, Dan Wells, Mary Robinette Kowal, and Jordan Sanderson) in the category of Best Related Work, which they just so happened to win last year.

Those not headed to Indianapolis (possibly the epitome of middle America) or London (perhaps the defining city of England) may well be headed to Dartmouth, Nova Scotia (maybe the Canadianest province of them all) for the Dartmouth Comic Arts Festival on Sunday. DCAF, in the tradition of other [Canadian city name]CAFs like TCAF and VanCAF, is an all-ages, free-to-attend celebration, and has a good slate of webcomics talent. In addition to Nova Scotia native Faith Erin Hicks, look for Meredith Gran, Mike Holmes³, Jeph Jacques, Gisèle Lagacé, Kate Leth, and more.

Known Nova Scotian Kate Beaton won't be there (she was home not long ago, and made comics about it as she is wont to do, with the visit's coda here and one last laugh here) so perhaps to make up for it she dropped some prime laughs on us today. If you're on your way to NS, read those Kate Beaton family comics on the way — they are basically the best.

Those not headed anywhere, Ryan Estrada has your back. The first of his (curiously under-subscribed) Patreon-supported Gimme Five! comics is up now, where he will teach you how to count in Korean up to a billion. If you have need of numbers beyond a billion (or numbers which are not non-negative integers), maybe he'll cover that in the next comic.
---
Spam of the day:
free coupons applebees
Is that you, Zdarsky?
_______________
¹ So called because it originated in Lake Geneva, Wisconsin about the time I was born. It bounced around Wisconsin for a while and eventually settled in Indy.
² Where, I should note, webcomics compete against all other form of comics in the same category.
³ Not to be confused with the other Canadian Mike Holmes, the house builder on TV. I'm sure the comics Mike Holmes is plenty handy, and maybe the TV guy can draw, but they actually are two totally different dudes.