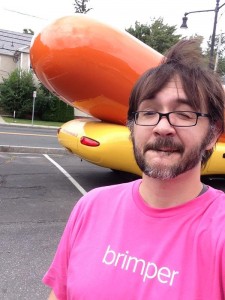 this is why no matter how bad I feel, I get up in the morning. you never know when the #weinermobile will show up. — Rich Stevens
The news that Robin Williams died yesterday — a suspected suicide — has stirred up a great deal of shock and sadness in the social media that I follow. I think he was likely a formative comedic influence (maybe the formative comedic influence) for a lot of cartoonists¹, and the further detail that he had been struggling with severe depression² likewise hit hard.
So many of the creators I follow — so many of my friends — have their own struggles with depression and other mental illness; as recently as five years ago I wouldn't have realized it because it wasn't talked about. We, as a society, have made strides in destigmatizing mental illness. I'm grateful that there are medications that help to rebalance whichever bits of brain chemistry get out of whack; I'll be more grateful when it's easier for everybody to get them, and to navigate the period of time it takes to get the right mix of brain drugs.
I'm grateful for every one of my friends that speaks up and says Here's why today was a hard day; here's what helps me have better days. And I am particularly grateful to whoever put together two words to get the most important idea across: depression lies.
If you've heard those lies, heard the falsehoods that nobody cares, that nobody would miss you, that you lack value, look around at everybody that's been where you are while making things that you love. I haven't had those lies directed at me but if I should in the future, remind me that they are full of shit until I can believe it again; we can only be there for each other.
And besides, listen to the lies and maybe you'll miss out on your own chance to see the Wienermobile; it scientifically proven that you can't help but have a better day when you see the Wienermobile³. Now I'm going to hit you with short items until we're all feeling a little better.
---
Spam of the day:
can vinegar kill mold
It is not widely known, but my superpower (my other superpower that is; my main superpower is moustachery) is that I can clean almost anything. I have gotten ground-in chocolate out of a white fabric couch and an olive oil spill out of a suede jacket. And when life calls on The Stainmaster, the two tools closest to hand are baking soda and vinegar. So I feel qualified to say that while vinegar is a tremendous asset in cleaning, its lethality vis-á-vis mold varies with the species involved. To kill mold, I'd recommend bleach.
_______________
¹ And given the longevity of his career, it doesn't matter how old said cartoonists are.
² Along with long-standing addictions.
³ True story: one of my sisters was up for a job driving the Wienermobile right out of college but didn't get it. It's a damn shame, because I've always thought she's exactly the sort of person you'd want driving the Wienermobile.