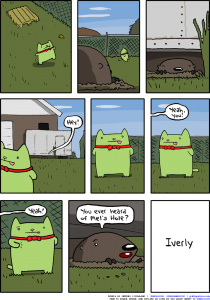 More webcomics, of course.
Readers of this page, or any other page for that matter, know that one of the great tragedies of modern webcomickry is that running a business empire has left Jeffrey Rowland too busy to do comics more than alternate fortnights, or possibly I mean "stone"; the sooner we get metric time units the better, but I digress.

In Rowland's most recent comics, Joanna the undead cat went missing in mid-June, was possibly sighted at the start of July¹ and the search was on again with only a minor hygiene detour, then promptly stopped for San Diego. Not to worry, Rowland assured me as I held a piece of pipe that would support TopatoCo booth banners, I got plans.

And over the last week or so, a series of mysterious tweets² that mentioned the mysterious Iverly. Yesterday's Overcompensating update was titled Iverly, and then a few hours later, a new domain went live at Iverly.com³, with an accompanying announcement:

There's a new comic on the scene and it is called Iverly. Journey Into The Hole with Joanna. http://iverly.com/iverly/index.php?comic=4…

Actually, don't click on that link in that quote, since it jumps you ahead to strip #4, and you'll want to read Iverly from the beginning. Here is everything you need to know about Iverly:

Iverly comics will update Monday-Wednesday-Friday, marking the return of Jeffrey Rowland to regular cartooning, and given the setup, it looks to be the sort of loopy, cryptid-filled flight of fancy that nobody does better.

That's it, two things. I'm already filled with questions: What exactly is Mel's Hole? Will we ever learn about The Incident, or is it like Calvin's Noodle Incident? What are the odds that this is a 100% true account of what's under the trailer parked out behind TopatoCo's warehouse?4 We'll learn the answers on Rowland's own schedule which, heavens be praised, will be regular for the next while. Hooray!

It would be ungracious to demand more than one creator to return to regular webcomicking, but that is exactly what happened by chance. With his Broken Telephone project nearing the end of his need to babysit, Estrada has jumped back into comicking with a Patreon-supported project, titled Gimme Five!

Short version: people write into Estrada with questions, and he answers them in comic form. In case you're wondering if he can actually explain the works of Shakespeare to the point you could learn about them in five minutes, remember this is the man that has taught more people to (phonetically) read Korean script than anybody else in history.

While Patreon supporters will get their questions answered sooner, Estrada is open to answering anybody's queries, probably particularly now as he's trying to ramp up production. And that's just for US$1 a month. Supporters at US$3 a month get a bundle of Estrada comics, more than 1000 pages; at US$5 per month, there's another 400 pages of comics from collaborators. But from my POV, the really interesting thing happens at the US$10/month tier:

The Commercial Use Program
You have the right to commercial use of any Gimme Five comic, Learn To Read Korean in 15 Minutes, and How To Travel Anywhere on $20 a Day. This means you can republish the comics anywhere you like, and make money off of them.

Syndicate it on your blog! Use it in your lesson plans! Publish it in your magazine! Make a poster! Staple up a mini! As long as I'm credited as the creator, you can do whatever you want.

I will provide high resolution copies of any strip upon request!

This is the most original form of licensing I've ever seen; one thing I wonder is if you lose your commercial reuse rights if you stop your support, so that's something you might want to clear up with Estrada. From personal experience he's a fairly easy-going guy and I doubt he'd want to take the time to police an enforcement mechanism more complex than Please don't rip me off, but if you're conscientious enough to want to license his stuff, you probably want to make sure you aren't violating his rules. Magazines and books in particular will probably require something concrete.

Weirdly enough, as of this writing Estrada has only three (3) supporters. Not a typo! One, two, three. I don't expect that to last very long, and early backers will probably be the first ones to get their questions answered, so jump on this while you can.
---
Spam of the day:
With havin so much written content do you ever run into any problems of plagorism or copyright infringement? My site has a lot of completely unique content I've either authored myself or outsourced but it looks like a lot of it is popping it up all over the internet without my agreement. Do you know any techniques to help protect against content from being ripped off?
Just keep spelling like that and I think you'll solve the problem.
_______________
¹ Weedmaster P is never the most reliable eyewitness.
² Editor's note: in this case, the DO NOT HUMP label is not sexual in nature; it refers to a technique that uses gravity to assist in the switching of rail cars.
³ Not that a new website associated with Rowland is in any way unusual.
4 Given that it's Rowland, I'll put it at 55-60%.