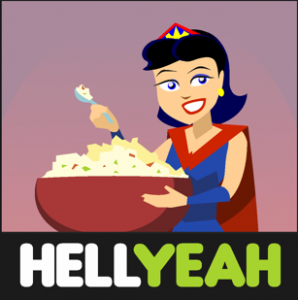 Want advice on getting ahead in [web]comics? We've got it in spades today!
Do! Engage people on social media, so they know what you're up to. For example, if your Kickstarter gets approved on a Friday afternoon when your East Coast (of North America, at least) readers are maybe getting a head start commuting before the weekend, give them reasons to care¹, keep them up to date on significant campaign milestones, and let them know about extras you're giving out.

Also, since all of those links involve Wonderella (the most indifferent superhero this side of Kate Beaton's Wonder Woman) they may be less than perfectly safe for work, depending on how/when/where you work.

Don't! Make the mistakes that Lauren Davis identified at io9, with the help of a mess o' webcomickers who were showing at SDCC. In fact, the only part of Davis's piece that I'd quibble with is where she identifies:


Jon Sung, who has learned a great deal about webcomics merchandise while manning the Dumbrella booth at San Diego Comic-Con

Sung, aka Ferocious J, aka chronicler of the dogs of San Francisco, aka inventor of Ultimate Team Cardboard Fortress Battle, aka resident mad scientist of the Candy Booze Lab², aka the God Hates Jedi guy, didn't learn about webcomics merchandise from his time in the Dumbrella booth. He, sui generis, created that knowledge out of nothingness, like unto Athena emerging from the forehead of Zeus.

Do! Get your work in front of as many eyes as possible. For example, you could take your very popular Tumblr comics recounting your experience teaching English in Japan and make them easier to find by giving them their own site, complete with RSS feed.

Alternately, you could take an existing webcomic with a deep archive of strips and hand-pick the most accessible of them to be included in a syndicate-run website, where people who have never heard of webcomics may see them. Join the likes of C'est La Vie, Medium Large, Saturday Morning Breakfast Cereal³, Savage Chickens, Skin Horse, and Starslip, who have gone on before. Where, uh, people who spend all day commenting on Heathcliff can say this about it:

Mediocre comic with dinosaurs in it.

Ignore these people because seriously what the hell?

Don't! Ever fail to show Ferocious J sufficient and due respect. All hail.
Do! And also Don't! Read and draw lessons from this heartfelt (painfully so) piece by Mike Dawson titled Advice to the mid-career cartoonist who has failed to build an audience, yikes. It includes both things that you want to do, and things that you don't want to do, and there will be a wide variability in how you react to Dawson's conclusions, not least because of individual temperament; for example, I doubt Dawson's anguished assessment Ugh, fucking Social Media will be entirely in line with the feelings of most people reading Fleen.

It's a brave and honest self-examination from somebody that's done everything right in making compelling comics while he has simultaneously (quoting directly here) shit the bed in audience-building. The unspoken point of the entire piece may as well be you can't afford to ignore any part of your career if you're in comics, along with be prepared to look at your efforts honestly, and adjust what's not working. Kudos to Dawson for what must have been a painful piece to write.
---
Spam of the day:
Hello just wanted to give you a brief heads up and let you know a few of the images aren't loading properly. I'm not sure why but I think its a linking issue. I've tried it in two different web browsers and both show the same results.
I believe that we dealt with this a little more than a month ago; do try to keep up.
_______________
¹ This is by far the best use of that potato salad thing I've seen.
² If he ever offers you the candy corn-infused vodka, find a way to politely decline; trust me on this.
³ Minus the votey, darn.