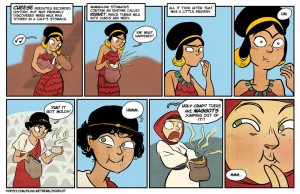 I am mathematically certain that I will get more angry comments for the mouseover text in that image up there than anything else I write today.
While we're all anxiously awaiting the launch of the Wonderella Kickstarter that's due today, two separate webcomickers (that deal significantly in the various sciences) lighted upon the same topic for the day. On the one hand, engaging in descriptive precision not often seen outside the brain of T-Rex, you have Zach Weinersmith describing the production of cheese in needlessly clinical terminology while simultaneously calling out young children for hypocrisy. Stupid young children!

On the other hand, you have Maki Naro looking at the history of cheesemaking, wherein we learn that it's one long string of Hey, dare you to eat this. I would note that the dare-to-eats that were filled with deadly pathogens are not shown, which leads to a couple of possible conclusions:

If we take them to have happened but are no remembered, then cheese evolved, with deadly (or more likely, non-palatable) variants being selected against.
If instead we take them to have never existed in transitional forms and all cheese to be intelligently designed by a Prime Cheesemover, then God is real and those that eat secularist cheeses are going to hell.

Arguments for or against may be directed to Mr Naro, but given the nature of this new interview which discusses in part his skeptic tendencies, we can safely conclude he believes in Godless evolutionary/Big Bang-derived Devil's cheese¹, the atheist pervert.

Dealing with neither cheese or the question of divine existence, those in and around Dallas are advised to seek out Zeus Comics tomorrow, as Danielle Corsetto catches up with her convention husband Randy Milholland for a joint signing from 4:00pm to 8:00pm. Danielle's already under instructions to give Randy a hug for me, but if you wanted to do so as well, that's cool.
---
Spam of the day:
It's a shame you don't have a donate button! I'd most certainly donate to this outstanding blog! I suppose for now i'll settle for book-marking and adding your RSS feed to my Google account. I look forward to fresh updates and will share this website with my Facebook group. Talk soon!
Reader, you do not ever have to feel shame over wanting to give me money; simply find me in person, and hand me cash. Sweet, sweet, untraceable cash.
______________
¹ Which begs the question, would the Devil's cheese be the most sumptuous, delicious, decadent cheeses, designed to lure the unwary into lives of pleasure? Or would they be pressurized goo in a spray can (which — much like the unholy "wyngz" — may not be referred to legally with a proper spelling) and rubbery, flavorless, individually wrapped slices of "cheese food", a term which contains two words that are both lies?