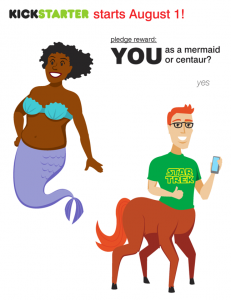 You always wonder if the aftermath of a big show is going to be a dead time, news-wise, but somehow webcomicdom always comes up with fresh stuff. It's amazing, really. Oh, and the mention I made 'tother day about Colleen AF Venable leaving :01 Books for an art director gig elsewhere? There's a job posting up if you're in New York and are a design pro.
---
Spam of the day:
Greetings from Carolina! I'm bored to tears at work so I decided to browse your blog on my iphone during lunch break. I love the information you present here and can't wait to take a look when I get home. I'm shocked at how fast your blog loaded on my phone .. I'm not even using WIFI, just 3G .. Anyways, superb blog!
Chris Sims, is that you?
_______________
¹ So to speak.
² Who is incorrectly identified as selling pot; as we all know, Hanna bakes pastries while 100% high for for years³, supplying high-end shops throughout New York City.
³ Fun math fact: the 61,320 hours that Hanna cited in that strip corresponds to exactly seven years, but that strip ran in December of 2011, meaning she's likely up to 84,528 hours as of today.
I wish I could get that sparkly effect to work in-line with the rest of the text, but oh well.