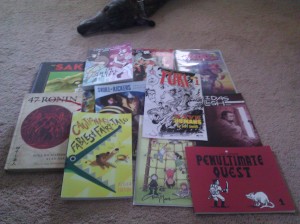 Got a lot of stuff at SDCC this year, all of it readable (I'm usually good for at least one toy, but not this year); I spread it out for the customary photo, which my dog decided to crash. For the record, he was here in New Jersey the entire week. In case any of you want to know what's good, let's do a survey:
On the left hand side, the Stan Sakai tribute book and the hardcover collection of 47 Ronin (on which Sakai supplied the art); the former is new, the latter's been out since March, but I hadn't been able to find a copy anywhere so yay. Sakai is one of the great treasures of comics, and if you haven't been reading his work all along, you could do far worse than to read the standalone story of the loyal retainers of the Asano Clan.
Top center you've got the two cheats: In Real Life and To Be Or Not To Be. My copy of TBONTB is nearly a year old, but the key word is nearly; my copy came in the mail just after SDCC '13, and thus I missed the opportunity to get contributors to sign it. I brought it this year, and now have 19 of the 69 contributors; this one may take a few more cons. A copy of In Real Life by Jen Wang and Cory Doctorow was offered to me at the :01 Books booth, but I suspected I'd have a copy waiting for me when I got home and so it was.
Continuing clockwise, we get the latest Bravest Warriors and the last issue of Midas Flesh, both of which are excellent (Midas #8 is the Ryan Northiest story that there ever could be), and for both of which I offer my profound thanks to the folks at BOOM!, in that they actually sell their comics at their booth.
I see now that I could have composed the placement of items a little better to keep similar things together, but oh well. We have the previously-mentioned Penultimate Quest by Lars Brown and Cautionary Fables and Fairy Tales: Africa Edition, edited by Kel McDonald, both of which I devoured on the plane. Penultimate dares to ask the question Why are we invading this same dungeon day after day and why doesn't time pass? from the perspective of a character in that situation. It's a ballsy thing to decide that Valhalla gets kind of old when it might be your eternal reward; it's ballsier for Brown to end the book on a cliffhanger, with resolution to come in volume 2.

Unsurprisingly, there were a lot of damn good stories in Cautionary, ranging in their treatment and degree of fidelity to source material. Also unsurprisingly, the standout was Carla Speed McNeil's story of why Frog and Snake don't play together; no other story captured the sense of timelessness, the speech rhythms of griot, and drop-dead gorgeous art that precisely matched the needs of the tale to quite the same degree. Then again, if you're producing a story that isn't quite as assured as one by McNeil, you're doing pretty damn well.

In between Brown and McDonald's gifts is the first issue of Terry Moore's SIP Kids, bringing characters from his justly-acclaimed Strangers In Paradise together as Peanuts-age children. It's hilarious and you should get it even if you never read Strangers; you'll get more out of it if you're familiar with Moore's work, but it stands marvelously on its own.
In the center, you've got Jim Zub's most recent Skullkickers issue (I had trouble finding it previously) and Jeff Smith's first print issue of his webcomic Tüki Save the Humans. Typing their names in such close proximity makes me want to see those two dudes collaborate on something someday. Oh man, that would be awesome.
Oh, and my hotel clerk gave me these, which was very generous given that I hear there's a trade in them on eBay.
---
Spam of the day:
Kale qualities valuable nutrients and minerals which inturn deliver the idea a phenomenal program cleansing as well as a facial skin regenerator.
In the words of the inimitable Helen Rosner, My safe word is STOP MAKING SEX REFERENCES ABOUT KALE.