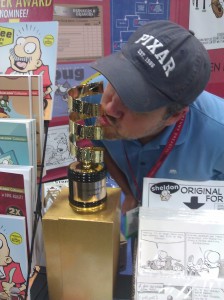 Sunday is always an odd day at San Diego Comic Con; the Eisner and Masquerade winners are known (and there's been time for all the arguments about how they rock and/or suck to have been identified), vendors have started to quantify sales numbers and get an idea how things compared to last year (consensus: cautious optimism), and everybody on the floor is simultaneously looking forward to and dreading packing up and packing out. It's when you start to blend together what do I need to do today with what do I need to do differently next year and even the casual conversations get wacky. It's a day when you're still 18 hours away from dropping your bag and worrying about the new laptop inside when you should have been worried about the glass bottle of orange juice in the outside bottle pocket, or maybe that's just me¹. Here, then are things that happened on Sunday, none of which happened to me more than 50 meters away from the big WEBCOMICS banner hanging over the center of the Sexy Lagoon.
The best cosplay of the day was a tie between the very subtle and understated Sen (or was that Chihiro?) from Spirited Away and the very detailed and over the top Steampunk Buddy Christ. With Sen, it was the small details, like a fat mouse and a small fly on her shoulder; with Buddy, it was the rotating clockwork heart on his chest, with handmade escapement gears and multiple complications. Good job, cosplayers!
---
Spam of the day:
It's difficult now to focus on Andrew, but also really enjoyed your prized and your particular way with words.
Yeah, Andrew's great.
_______________
¹ Everything was okay, if variously damp and sticky and I'm writing this on the laptop in question so it still works, yay.
² A book which is simultaneously Pope at his Paul Popiest and his Jack Kirbiest. It's a joy to read.