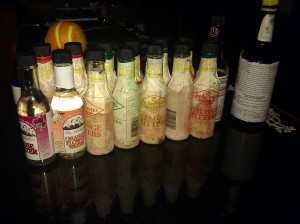 It's an odd vibe in Webcomicsland this year; no Scott Kurtz (given up on the exhibiting end of Comic Con), no Kris Straub (awaiting the imminent birth of his first child), likely no Penny Arcade next year (for reasons previously stated), no Jon Rosenberg (laid low by his three mobile disease vectors children) … it feels like the era of webcomics-cum-San Diego has hit an inflection point. Fortunately, there are always things happening to keep it weird.
Pictures: Calm before the insanity hits at Dumbrella², TopatoCo, Sheldon/STRIPPED, and elsewhere. These photos were taken relatively early in the day, before other booths were fully built out, before even the blue-shirted convention center staff became very concerned that no exhibitor be beyond arm's reach of their booth two hours before the doors opened.
It was weird and control-freaky, but did allow for a hilarious interaction when Matthew Inman happened to have an exchange with one of the blueshirts; he was constructing a banner in the aisle just outside his booth when he was asked if he intended for the banner to stay there. Not taking the question seriously, he replied Yes, I'm going to keep it here in the middle of the aisle, which response was taken seriously by the convention center official. She became very concerned about this, because apparently no exhibitor in the history of the San Diego Convention Center has ever used aisle space to construct something that would then be pulled into the booth space. Like I said, weird.
Panels to watch for today:
Gene Luen Yang and Scott McCloud at 3:00pm, 28DE
Scott McCloud solo at 5:00pm, 7AB
Bee & Puppycat at 5:30pm, 6A
Reminder to all creators at the show: check the programming guide for your name. Much like we noted earlier that Gene Luen Yang is double-booked at least twice, Frank Gibson mentioned to me that he found out he was on the Bee & Puppycat panel by reading your blog, Gary. You never know what the con organizers or your own publishers might have forgotten to mention or accidentally sent to your spam folder.
---
Spam of the day:
The parents have to method in a different way for a variety of sexes of youngsters especially when they mean to give the best of enchanting emotional add-ons. By having the right options to choose from a variety of sentimental charms, even the choices today have increased manifold.
You make the act of child-raising sound like equipping a character in a JRPG.
_______________
¹ As well as the admirable admonition that Asia is broader than Japan, comics people! She's doing a Turkish myth herself, and one contributor is planning on doing a Mongolian fable. There's cultures from the Tigris to the Ganges to the Yangtze to the Mekong that fall into Asia and she's looking to explore them broadly.
² The Ron Swanson Baffler! sold about 45 minutes into Preview Night; it may have also spawned a Tobias Fünke commission for Mr Yates, so that's all right.