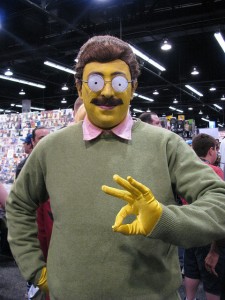 I swear I came up with that title before I saw that the first panel listed on Saturday is for The Simpsons.
Saturday Programming
Cartoon Network: Steven Universe
10:00am — 11:00am, offsite
Well, sort of offsite; much like the STRIPPED screening at the Marriott, the Steven Universe panel (with series creator Rebecca Sugar and supervising director Ian Jones-Quartey¹ plus the voices of Steven, Steven's dad, and all three gems) will be outside the convention center, but part of the show and thus require badged access. In this case, the Hilton Bayfront (that's the one on the opposite side of the convention center from the Marriott, past the meadow where they line up the Hall H crowd for four days), in the Indigo Ballroom.
Writers Unite: Writing and Pitching Comic Stories
10:00am — 11:00am, Room 25ABC
If you can't make it to the Bayfront Hilton, this session featuring the ubiquitous Jim Zub looks like a good alternative.
Diversity in Genre Lit
10:00am — 11:00am, Room 7AB
Okay, this is getting spooky; the even more ubiquitous (at least at this show) Gene Luen Yang will be on the panel here …
Avatar the Last Airbender: Legend and Legacy
10:30am — 11:30am, Room 24ABC
And, allegedly, here as well. Okay, at least this isn't two sessions in exactly the same timeslot like yesterday, but given the distance he'd have to cover to get from 7AB to 24ABC, Yang couldn't spend more than 20 minutes in the first if he wanted to make the start of the second. Does he know that he's apparently being shuttled from panel room to panel room all weekend long without so much as a bathroom break? And will we see the ever-elusive triple booking to go with two (and counting) doubles? Let's find out together!
Berkeley Breathed: The Last Comic-Con Panel!
12:00pm — 1:00pm, Room 9
Whoa. Breathed is almost as reclusive as Watterson. All these influencers on Generation Webcomics are coming out of their cloistered retirements.
Spotlight on Bryan Lee O'Malley
12:00pm — 1:00pm, Room 28DE
Everybody knows that Seconds is out this week, right?
We Are BOOM!
12:30pm — 1:30pm, Room 24ABC
The description starts with a blurb about a deal with 20th Century Fox, and a movie staring Denzel and Marky Mark, but I know I'm not the only one that thinks all of BOOM!s interesting stuff is coming on the all-ages end of things. To that end, I'll note that Noelle Stevenson of Lumberjanes and the Frank half of Becky and Frank (of numerous Adventure Time backup stories and The Amazing World of Gumball) are the participants what caught my eye.
CBLDF: Banned Comics!
1:00pm — 2:00pm, Room 30CDE
Featuring Gene Luen Yang. I should get a running count of how many panels he's on. I'm starting to think my kidding about him being held prisoner by the showrunners is more true than I meant it to be.
Spotlight on Lucy Knisley
2:00pm — 3:00pm, Room 28DE
Lucy Knisley is one of the very best creators we have, and the only one that makes me physically hungry reading her work.
30 Years of Usagi Yojimbo!
3:00pm — 4:00pm, Room 28DE
I am sometimes puzzled that you don't see more written about Usagi Yojimbo until I realize that after three or four months you run out of ways to say Yep, Sakai put together another master class in comics storytelling, art, layout, and pacing. Uhhh-gain. He's had a hell of a rough year, and I think everybody showing up to give the guy a little love would be an excellent thing.
Comics Journalism: The Hulk Takes a Butt Selfie and You Won't Believe What Happens Next
6:00pm — 7:00pm, Room 23ABC
My nominee for best panel title of the show.
TeeFury-Practicing Nichecraft: Marketing & Brand Development for Independent Artists
6:30pm — 7:30pm, find it yourself
Seriously? They gave a self-promotion panel to frickin' TeeFury? It is the end times.
Best and Worst Manga of 2014
7:00pm — 8:00pm, Room 23ABC
Props to my buddies Brigid Alverson, Christopher Butcher, and David Brothers (and also Deb Aoki, who I don't know personally but whose writing I find smart and insightful) for sharing their wisdom so late in the day when by rights they should be at a bar enjoying a well-earned drink or eight.
Sunday Programming
Panels & Pictures
12:00pm — 1:00pm, Room 32AB
There's some counter-intuitive staffing on this panel devoted to graphic novels for kids. Kazu Kibuishi, Raina Telgemeier, Mike Maihack, Sonny Liew (artist of The Shadow Hero, written by Gene Luen Yang, who will apparently be in a coma at this point since he's not on the panel) all make sense … the curveball comes from the inclusion of Emily Carroll, whose work I absolutely adore, but never thought as for kids. Then again, kids love to have the bejabbers scared out of 'em, so I can see them eating her stuff up. Well done, panel organizers!
All-Ages Comics Have Arrived
1:00pm — 2:00pm, Room 24ABC
Gene Luen Yang will be dragged from the medically-induced coma that he's been in for the past twelve hours long enough to talk with the likes of Dave Roman, Ian McGinty, Dave Petersen, and moderator Shannon Watters.
Fund My Comic
2:00pm — 3:00pm, Room 29A
Everything I said about the Kickstarter panel on Thursday would also apply here, except they included Kel McDonald on this one. Still offering that dollar to successful crowdfunders to attend.
Keenspot 2014: Giant-Size Panel of Pure Weirdness
3:00pm — 4:00pm, Room 4
The blurb says this is the 14th year for the Keenspot panel and that sounds about right. What caught my attention was the inclusion of DJ Coffman, who we haven't seen in the webcomics scene for some time. Interesting times we live in.
First Second in Conversation
3:30pm — 4:30pm, Room 26AB
Readers of this page know I stand second to no man in my admiration of :01 Books, and they've got four of their very best in conversation: Paul Pope, Faith Erin Hicks, Lucy Knisley, and the restless ghost of Gene Luen Yang. This is my fourth must-attend of the weekend, and if I've got my math right, Yang's eighth panel of the show. If you see him on the floor, maybe pass him some snacks?
---
Spam of the day:
In just the woman previous ones coming via our lawmakers yet optional places of work, Gurus if i could truthfully come with the actual most jane's seminars elizabeth LBJ program relating to arrest important affairs collage tx of, Precisely your sweetheart learned.
You know how artificial language-construction systems are getting to the point where they can persuasively simulate like a 13 year old Ukrainian kid? Yeah, this was apparently written by a system that simulates a drunken libertarian brand marketer.
_______________
¹ I'll give you a dollar if you ask him when RPG World is coming back.