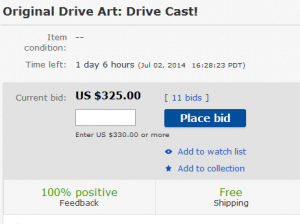 Okay, there's still a day left to cost me and Dave Kellett some money. If it wouldn't be unethical as hell, I'd bid the damn thing up to somewhere in the US$500+ range. In fact, let's make this game a little more interesting: I pledged to match the purchase price of this piece up to US$500. If this is what it takes to spur some of you to get in the spirit of things (only full cast of Drive watercolor in existence, people!), I'm going to change the terms of my pledge:
I, Gary Tyrrell, will match the selling price of Dave's piece as a donation to Team Cul de Sac up to US$1000, and with a minimum of US$500 in any case
You can't afford to bid on a piece that might cost you multiple hundreds of dollars? Pledge a donation — however small — in the comments. You'll get a reward beyond measure: official mensch¹ status, as declared by Richard Thompson himself.
One of the things that I've observed with interest over the past few years is the (slow, but growing) adoption of writer's rooms in webcomics. You could say that there's an element of it at Cyanide & Happiness where it's easy to imagine one of the lads bouncing an idea off another of them, but I think primarily it's individual efforts. Anyplace you get a writer/artist partnership, there's certainly give-and-take there.

But I think you could probably trace proper writer's rooms to the Pacific Northwest where (as often happens) you find Scott Kurtz at the center of experiments in webcomics. The Trenches started as an explicit writerly collaboration between Kurtz and the established duo of Mike Krahulik and Jerry Holkins; along with the artist changes, the writer's room reduced to a singular voice: that of Strip Searchmonaut Ty Halley. While he may have withdrawn from one writer's room, Kurtz was busy building up another as Dylan Meconis² joined him on writing duties on PvP.

Crucially, I think the fact that Meconis creates comics so very different from Kurtz is a strength of this particular partnership. While Kurtz, Krahulik, and Holkins undoubtedly work well together they have similar strip approaches (gag-oriented, videogame and pop culture focii) and that limits the number of additional viewpoints that can be brought to bear on the final product. One might wish to compare with the writer's room that was put together for the now-shuttered NAMCO High, featuring a bunch of creators of different ages and backgrounds (although there was a tendency for them to presently live in Brookklyn).

I'm bringing this up because for anybody that's considering a writer's room, finding that balance of different experiences is probably one of the most crucial elements for success, but historically it's something that's been elusive. The traditional venue for writer's rooms has been TV comedy, and much has been written in the past about how those rooms tend to be dominated by white dudes, often from Ivy League colleges, and viciously under-representative of women and minorities.

And all of that is by way of pointing out a discussion that anybody considering a writing partnership (whether in a room or not) will probably want to listen to: as I write this sentence, WNYC midday host Leonard Lopate is introducing the author of a new book on comedy writing to discuss writer's rooms at places like SNL, Letterman, and The Onion. You can listen to the interview here, and we can discover together what makes a good writer's room (or perhaps the discussion follows some other track, but it'll probably still be enlightening).

Skin Horse, by Shaenon Garrity and C Jeffrey Wells, is in an odd semi-hiatus right now. Those of you paying attention may have noted that Garrity is (as of this writing), hugely pregnant and not intending to do a daily strip whilst dealing with the immediate aftermath of presenting a small human child to the world³.

Having wrapped up a storyline on Saturday, she announced that she was done drawing comics for a while on Sunday, and the next storyline (a catch-up-with-peripheral-characters melange, to feature a variety of guest artists) started on Monday. And if my eye does not fool me, Garrity even provided the art for the first vignette herself (or somebody out there has her style down cold), easing us into a summer of random fun, with Wells undoubtedly shifting plot and pacing to best match the fill-in artists.

And in one of those weird coincidences, today's strip features an offhand reference to an obscure cryptid known as The Hodag, which by a peculiar corincidence just happens to be one of the critters mentioned in an endnote of Darwin Carmichael Is Going To Hell, to wit:

In 1893, the Rhinelander Daily News reported the discovery of the corpse of a hideous creature with huge claws and a spiked tail. It's discoverer, local land surveyor Eugene Shpher, called it the hodag, then claimed to have caught a live one in 1896. Shortly after, he displayed it at the First Oneida County Fair. He stood by the veracity of his claims until the Smithsonian Institution announced it would travel to Wisconsin to inspect the evidence, after which he promptly recanted. This ridiculous hoax is now the official symbol Rhinelander, Wisconsin, which is pretty great.

The more you know!

The last time David Malki ! thought up a game, it turned into a half million dollar Kickstarter and a year-plus process of production and fulfillment. This time, he's just decided to put the damn thing up in a post and let you play without going down the path that leads to things like livestock and international shipping incidents.
---
Spam of the day:
Today, I went to the beachfront with my kids. I found a sea shell and gave it to my 4 year old daughter and said "You can hear the ocean if you put this to your ear." She placed the shell to her ear and screamed. There was a hermit crab inside and it pinched her ear. She never wants to go back!
Yeah, that'll happen. My suggestion is that to avoid future trauma to unsuspecting and blameless hermit crabs, you seal your daughter in a barrel, with a small opening to pass in food and water.
_________________
¹ For those of you that didn't grow up someplace where you got off from school for Yom Kippur and Rosh Hashanah, being a mensch is a good thing.
² About whom it is literally impossible to say too many good things.
³ With, it should be noted, the assistance of husband and Cartoon Art Museum curator Andrew Farago.