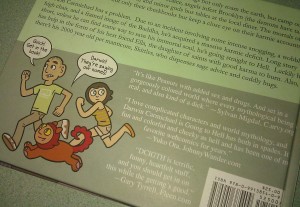 Following up on last week's story about Dave Kellett putting up a watercolor for auction and pledging to donate twice the sale price via Team Cul de Sac in honor of Richard Thompson's career. I thought this is such a great thing that he's doing, I pledged to meet the sale price myself up to US$500. At the time I wrote that, the watercolor was going for US$305.
As of this writing it's up to … US$325. Huh.
Come on people, you have the shot at a never-before-produced full-cast watercolor from Drive plus the opportunity to pull money out of my own personal wallet for a good cause. If the good cause part isn't doing it for you, maybe the make it expensive for Gary part will. There's just over two days left on the auction, and I want to see that number go higher. If you don't have the kind of money to bid on the art, drop a note in the comments telling us how much you might be able to spare for this very worthy cause — several thousand of you read this page any given week, and even five or ten bucks from just a fraction of you could add up to something significant.
Speaking of two days left, we've got just under 48 hours to go on the Augie and the Green Knight Kickstarter, and there are still stretch goals unmet. The start of the late-campaign daily backer bump is showing a bit, but still no impressive uptick like you'd expect. Look, backing now gets you far more book than you would have gotten four weeks ago — B&W spot illustrations, ten more full-page illustrations, nine prints plus a tip-in print, and acid-free paper — but you know what else you have a greater chance of getting now than you had back then?

I'd say you have a greater chance of future collaborations between Zach Weinersmith and Boulet. Can you imagine what the bookshelf of a kid you care about might look like five or ten years from now if they did another Augie-style every 18 or 24 months? It would look like the bookshelf of a kid that loves reading and stories, that's what. You still have a couple of days to spread the word.

Speaking of book Kickstarts, on Saturday I was lucky enough to receive a review copy of the print collection of Darwin Carmichael Is Going To Hell, kindly gifted to me by DC co-creators Sophie Goldstein and Jenn Jordan. Here's what I knew: I was going to love this book, because I really enjoyed the meandering adventures (and non-adventures) of Darwin and his friends while the comic was running. Here's what I didn't know until I opened the mail: Sophie & Jenn chose something I wrote to include, alongside blurbs by Sylvan Migdal and Yuko Ota, which is pretty damn good company to be in¹.

This is not a review; that will come later, after I've read DCIGTH a couple more times. This is a story with a beginning, a middle, and an end, and it reads very differently as a continuous narrative than it does a page at a time. I'm also taking the time to appreciate the endnotes, which provide both supplementary mythological facts, and also choice factoids about the creation of the story².

Seriously though — bid or let us know what you pledge in the comments.
---
Spam of the day:
Hello just wanted to give you a quick heads up and let you know a few of the pictures aren't loading properly. I'm not sure why but I think its a linking issue. I've tried it in two different internet browsers and both show the same outcome.
Thank you, anonymous spammer that wants to sell me shoes or sunglasses or boner pills. In fact, there are linking problems with some images, primarily for two reasons. The first is that in the server switches that Fleen took last summer, some paths got changed around and then changed back, and while the images are still stored on our server, the code at the top of posts refers to a location that doesn't exist.
I've believe that I've fixed the image links for every post from January 2013 to the present, but I may have missed one or two in there. For posts before January 2013, any time I link back to something in our archives, I ensure that post (and any posts it links to) have fixed image links. Please note that I'm only talking about images and pages here at Fleen; things that happen at other sites, there are absolutely dead links and I imagine I'll fix them approximately never.
The second reason is that for the first several years of the blog, WordPress (or pehapas a plug in) generated the text for the header image in a different way that it does now. At some point, the block of code attached to each post that references the image, the link, and the alt-text ceased to exist for posts up to about August 2008.
The associated images are still on our server, but there are no references in the individual posts as to which images should be included in each post. As it turns out, the oldest post that still has a header image is the The Great Outdoor Fight book review from 27 August 2008.
Thus, the blog is now divided into BTGOFBR and ATGOFBR dates, which in my opinion is pretty damn perfect. If you come across a post that is ATGOFBR and has broken image links, drop me an email or post a comment, and I'll fix it.
_______________
¹ They also spelled my last name correctly, which is a secondary thrill. Seriously, I recently missed out on like the first two weeks of a fairly major project at work that I was assigned to because I have professional colleagues who can't figure out how to spell Tyrrell. I appreciate the hell out of anybody that takes the extra two seconds to get it right.
² Such as, which panel contains the Grossest Thing Jenn Ever Wrote, for which she apologizes. Let's just say that for avatars of purity and righteousness, unicorns can throw down Yo Mama jokes with the best of them.