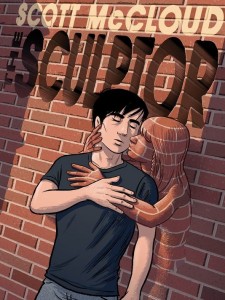 About the time I was getting all excited about Colleen AF Venable's book announcement yesterday, USA Today and Heidi Mac were showing off the long-awaited cover to Scott McCloud's new graphic novel, The Sculptor. It's been more than five years since the book was first announced; it was originally due for release in 2013 but the tale (as they say) grew in the telling — every time I spoke to McCloud those first couple of years after the announcement, the estimated number of pages (for what was still an untitled book) bumped up by 50 to 100.
So if you're wondering why you haven't had the book for a year and a half already, that's why — you're getting much, much more book. In fact, I'm pretty sure that McCloud would still be adding pages were it not for some insistent calls from New York to please just send them what was done, it will be brilliant, a situation that is not without precedent among treasured creators of geek entertainments¹.
But I digress.
The important thing is, McCloud's first work of fiction in about forever (the ZOT! Omnibus was 2008; The New Adventures of Abraham Lincoln was 1998) will be out the first week of February; the cover design is done (and who designed the cover? Ms AF Venable, that's who, so yesterday really was a case of everything coming up Colleen), which means that the logistics of printing and assembly and transport and customs and distribution and every other thing that needs to happen to deliver a physical artifact is in progress. There's no stopping it now.
Know what else is larger than life, or eventually might be? The Bartkira Project. It's been more than a year since we first heard tell of the attempt to get more than 450 artists to each render five pages from Otomo Katsuhiro's epic, six-volume Akira, rendering all the characters in the style of specific counterparts from The Simpsons.

In the meantime, the project has somehow managed to not run afoul of copyright enforcers at Fox, Random House, Tokyo Movie Shinsha, Toho, Kodansha, Warner Brothers, Bongo Comics Group, and Krustylu Studios, any or all of whom may have copyright interests in one or the other aspects of this particular mashup. And hoping that that particular streak of luck holds, the project honchos have launched the first print content associated with TBP.

Bartkira is not a first volume of the full story; rather, it's a curated exhibition of pages from the project, in advance of (it is presently planned) the release of the serial story online. It will feature 80 pages from TBP, 16 color pages in a gallery section, and contain work from 19 artists (not including Otomo or Matt Groening). It's being published by Floating World Comics of Portland, and will set you back US$15, and is a non-profit enterprise:

Proceeds from this exhibition book are being split between two charities, Naka-Kon (a charity for Katsuhiro Otomo's home prefecture of Miyagi, which was decimated during the 2011 Tohuko tsunami) and Save the Children (a charity of choice from Simpsons co-creator Sam Simon).

If this goes through without any angry cease-and-desist letters, I'd expect the full narrative project to get through at least the first volume; if the lawyers get involved, I'm guessing the 2300+ pages won't see the light of day.

Also larger than life, despite being tragically cut short? The boundless skill and lauded career of Richard Thompson. A lot of money has been raised by a lot of cartoonists in support of research into Parkinson's Disease, including via the Team Cul de Sac book and the forthcoming auction of those Bill Watterson guest strips from Pearls Before Swine.

To that, we can add one more:

I've been thinking a lot about the brilliant and hilarious cartoonist Richard Thompson, who's career was robbed by Parkinson's. His strip Cul de Sac is amazing, with such a unique writing style and energetic, scratchy line.

So! I made this DRIVE watercolor specifically for eBay. It's the first full-cast watercolor I've ever done for DRIVE. And here's the kicker: Whatever it raises, I'm gonna double to give to Parkinson's research under the Team Cul de Sac banner.

Everybody catch that? The more this piece goes for, the more you're going to cost Dave Kellett, since he's going to match the selling price. As of this writing, it's going for a paltry US$305, but there are more than six days to go. Let's make Kellett dig deep into his wallet on this one; if you can't afford to bid, you could offer to add to Kellett's donation. It's simple, you just say something like, I, [your name], will match the selling price of Dave's piece as a donation to Team Cul de Sac up to US$____ and then do that once the auction ends. I'll start it out:

I, Gary Tyrrell, will match the selling price of Dave's piece as a donation to Team Cul de Sac up to US$500

There. It's on the internet, and that means y'all get to hold me to it. Who's with me?
---
Spam of the day:
Fantastic post however , I was wondering if you could write a litte more on this topic? I'd be very grateful if you could elaborate a little bit more. Many thanks!
I don't normally respond to requests in this fashion, but since the post in question was about the latest Wasted Talent book I will write a litte [sic] more: Angela Melick is awesome and her comics are awesome and you should read them and buy her stuff. And by buy her stuff I mean that you should purchase the items that she makes, not that you should purchase things for her.
_______________
¹ I was commissioned by Pan Books in England to write up the series in book form, and after a lot of procrastination and hiding and inventing excuses and having baths, I managed to get about two-thirds of it done. At this point they said, very pleasantly and politely, that I had already passed ten deadlines, so would I please just finish the page I was on and let them have the damn thing. — Douglas Adams
That's from the introduction to the Omnibus Edition of The Hitchhiker's Trilogy, published 1983 by Harmony Books. I am not suggesting for a moment that McCloud took too many baths or blew ten deadlines; as noted above, The Sculptor got longer from its initial contracted form, as opposed the the truncation of the first Hitchhiker's novel.