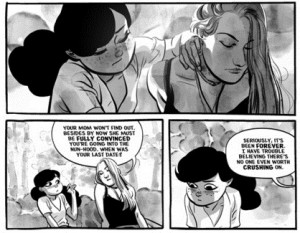 There are few things in this mortal coil that are going to put me in as good a mood as getting to talk about (or, preferably, with) Colleen AF Venable. Onetime photowebcomicker¹, Eisner-nominated kids book author (with Stephanie Yue), and integral part of :01 Books. How integral? Well, she's designed more than 100 books for them over the past few years, she was the visual reference for a main character in one of their best books of last year, and she's the latest proof that :01 knows that sometimes, the best talent is right under your nose³.
Because :01 just picked Venable's YA graphic novel, Kiss Number Eight, for publication in 2016:
I wanted to write a hopeful book about growing up queer in a conservative community — both in the present day but also in the past —- inspired partially by my older sister's coming out and the reaction of my very Catholic family, both good and bad. (How Catholic you may ask? Let's just say it includes multiple nuns … who wound up being incredibly supportive.) There's this obsession to box things in: Blue on this side. Pink on this side. But gender lines are much more fluid. Love is love, and if we had any control over it the world would be a lot less interesting.
I may have mentioned in the past that my secret to Not Dying is to pick out some piece of culture that I must have, that either isn't released or isn't finished yet; I then make the command decision that obviously I have to live until _____ comes out. Kiss Number Eight just became my newest mortality-avoiding goal, because I cannot wait to see what Venable (a one-woman cheerfulness factory) does with a topic that requires an acknowledgment that those you love the most can very much hurt you. Venable's light, humane touch with characters will well serve a story that could (in lesser hands) turn into a cloying, mawkish, clumsy after school special4.
The art will be supplied by Leela Wagner, and it looks fabulous; in fact, the preview pages are such confident work5 that it makes it hard to believe that this will be Wagner's first book. My guess is that by the end of the week, she's getting serious inquiries for future work. In the meantime, let's just hope that Wagner and :01 Books release more sample pages because waiting two years is going to hurt.
---
Spam of the day:
????????????????????????????????????????????????????? ?????
Woman ???? ???????????????????????????????????????????????????????
???????????????????????
There are so many things this could be trying to say, I am hard pressed to come up with just one interpretation.
A fedora-laden comment on the unknowability of the female mind as compared to that of the putatively logical Man?
A keyboard with an overly-aggressive repeat-press sensor?
Deleted dialogue from that one Next Generation episode with the aliens that didn't have genders but Riker still got laid?
The mind boggles.
_______________
¹ Rejecting traditional notions of drawing, Venable's photocomic found common ground with Bernie Hou's Alien Loves Predator, David Malki !'s Wondermark, Chris Yates's Reprographics, Chris Dlugosz's Pixel, and Steve Hogan's Acid Keg², collectively known as the Playground Ghosts, which engendered much loyalty in their readers and still has some discussion in its old forum.
² Which bucked the trend by not being a pixel, montage, or photocomic.
³ There's precedent, as :01 published editorial honcho Mark Siegel's hauntingly beautiful Sailor Twain. As there's really just four people that make :01 Books work, this means that once Callista Brill and Gina Gagliano get books out from :01, they can change their motto to Remember, we're not only the publishers of the best graphic novels in the business. We're also creators.
Yeah, it's a little longer than By Art We Live, but it's got that certain je ne sais quoi that just screams classy.
4 Alternately, a Very Special Episode of Blossom.
5 It reminds me variously of Jillian Tamaki on This One Summer, Jen Wang on Koko Be Good, and Boulet on Darkness. Hey, :01 Books, get Boulet to do a graphic novel!