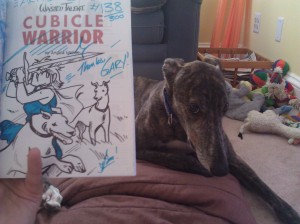 It is too late for you to get an Artist Edition of Angela Melick's third Wasted Talent collection, Cubicle Warrior. Here are several statements that occur to me regarding that previous sentence and related facts:
Sucks to be you, Bunky. Maybe you can pick up the regular book and get Melick to sketch in it at one of her infrequent convention appearances.
Those appearances may infrequent due to the fact that Melick spends a lot of this volume full of horrible diseases, and conventions are not only a pain to get to, they are incubators of plague. Perhaps she should take the same precautions she took in advance of her honeymoon trip before wandering over to a convention center full o' fans.
There has never been a more misleading webcomic title than "Wasted Talent". Nothing about Melick's talents in either comicking or the day job (as a design engineer) is wasted. For that matter, neither of those areas of endeavour are dependent on some innate talent that she had — they're dependent on her skill, which was earned through a hell of a lot of work.
The lead time on producing a book are significant; the comics in this collection include the time when Melick was finishing and shipping her first book. It occurs to me that the last time I saw Melick in person was NEWW 2 in November of 2010; since that time she's achieved her PEng license, shifted employers (to avoid the inevitable), released her second book, seen that job evaporate, landed another job that calls for awesomeness, and continued to explain exactly what engineers are to an unsuspecting world.
Despite a general stigma in the culture (and definitely in the profession), Melick's been open about dealing with anxiety and depression. While those comics may look lighthearted (and they are), keep in mind they are years old, and with the distance of time (and a greater degree of acceptance in the culture and profession) Melick's been forthcoming about how the truth behind the humo[u]r in her comic end-notes.

It's because of people taking a public stand that the misconceptions of depression, anxiety, and other mental illness will finally be swept away. It's brave and honest and she has my utmost respect.

Also: moustaches. Respect.
So: brave chronicler of her own life, ambassador between the engineering tribe¹ and those that don't quite get us, designer of sustainable technologies to lessen the impact we have on our world, and actual student of longsword fighting² … Angela Melick is basically my hero, and if you don't follow her adventures there isn't enough awesomeness in your life.
---
Spam of the day:
I'm really enjoying the design and layout of your site. It's a very easy on the eyes which makes it much more pleasant for me to come here and visit more often. Did you hire out a developer to create your theme? Exceptional work!
WordPress theme by Jon Rosenberg, all backend WordPress wrangling by Philip Hofer, both of whom I recommend without reservation. Pay them money to do stuff for you.
_______________
¹ Right-hand rule, fool.
² As a result of Melick's portrayal of longsword practice, I've found myself looking for such classes near me. Oh and what's this? A sister school here in New Jersey that offers classes in drawing and sheathing the traditional Japanese sword, and executing the perfect cut? If I get sucked into iaido, it's because of you, Jam.