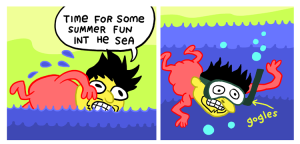 A number of Kickstarts to follow up on today. Let's take a look, shall we?
---
Spam of the day:
aspect each in the costs for that mortgage, particularly when it is possible to find unnecessary service fees apart from the fascination. [sic throughout]
Apart from the fascination? Is the fascination not enough for you?
_______________
¹ That Planet Money shirt is still not publishing, and screw squirrels anyway.