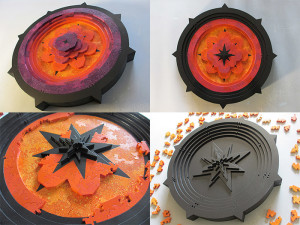 You wouldn't think so, but it is — that's the number of pieces in the latest Baffler! from Chris Yates, the 3000th in the series. Five layers deep, colors all but indistinguishable from layer to layer, it's a work of art. Serious enquiries only, please.
Other Big Round Numbers to note:
If I've followed the news a'right, today marks the 4000th strip at Unshelved. That's a lot of stories from the library (what, didn't you know that every single Unshelved strip, including the most horrifying ones, are completely true and taken directly from writer Gene Ambaum's life?). Congrats to the webcomics power duo of Ambaum and Bill Barnes, and here's to another 4000.
Hey, know what's almost the same as 4000 strips? 400. What? It's only one digit different. Anyways, fans of the Greatest Superhero Ever will want to make a special effort to see what Wonderella's up to on Saturday, as that will be strip #400. I bet she jumps hella high and also yells at Hitlerlla and maybe also teaches a lesson. It's what superheroes do.
Not big round numbers:
---
Spam of the day:
fleen.com, with region cricket, a well known fact their co-workers may state in order to as well as bemoan within equivalent amounts.
I spend a tidy sum to spray for region crickets, so I'll thank you not to imply we have them.