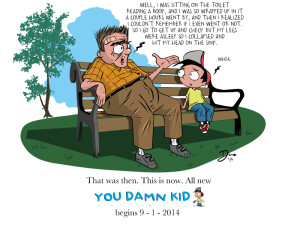 You Damn Kid! was maybe not the first webcomic I followed, but it was the first that I got a reprint collection for, and the first that I got a sketch from, and there will never be a day that I don't think that the frog rocket wiener is the funniest damn thing ever. I don't care how many times he's gone on hiatus, I know that Owen Dunne — like King Arthur before him — will always return in our time of greatest need. And apparently that time will be the first of September.
This page has been of the opinion that one of the better-curated comics awards programs out there would be the Joe Shuster Awards; perhaps it's because of a reasonable number of categories, perhaps because of its tight focus on Canadian creators¹, perhaps because Canada produces an outsize crop of really talented writers and artists. This year's nominees have been announced, and it's the usual distinct lack of wondering How the hell did that get nominated?

Webcomickers (past and present) getting nods from the Shusters include Ed Brisson (various titles for Image and Marvel) and Ryan North (Adventure Time) as Writer/Scénariste, Stuart Immonen (two different X-Men series) and Chip Zdarsky (Sex Criminals) for Artist/Dessinateur, Faith Erin Hicks both solo (The Adventures of Superhero Girl) and with J Torres (Bigfoot Boy vol 2) for The Dragon Award (Comics for Kids)/Le Prix Dragon (Bandes Dessinées pour Enfants), and the Cloudscape Comic Collective (Waterlogged: Tales from the Seventh Sea) for the Gene Day Award (Self-Publishers)/Prix Gene Day (Auto-éditeurs).

The actual award for Webcomics Creator/Créateur de Bandes Dessinées Web is the usual strong lineup featuring Attila Adorjany, Jayd Aït-Kaci (with Christina Strain), Olivier Carpentier and Gautier Langevin, Emily Carroll, Kadi Fedoruk, Canaan Grall, Dakota McFadzean, and Ty Templeton (half of whom are repeat nominees, meaning they're keeping up quality work over the long term).

What I love about the Shuster nods for Webcomics/Bandes Dessinées Web is that I always learn about something good that I hadn't been reading — they really do dig for outstanding work. That said, I think that Emily Carroll will take her third win in three nominations (2011, 2012), but any of the nominees are worthy of recognition. Time and date of the announcement of the winners will be announced later.

This page has also long been of the opinion that there's possibly no single creator working in more different story styles than Dave Roman. While almost always working in an all-ages (or at least YA) mode, his stories have run the gamut from SF school stories to spooky mystery, from be-true-to-yourself character studies (with boats) to fantasy. And sometimes, he just opts for maximum adorableness, as in the case of the Cupcake Helicopter The Great Bunny Migration minis.

The latter has now spawned a new ongoing webcomic in the form of Starbunny, Inc, which launched today with a time jump and corporate intrigue, leading one to suspect that this won't be just adorable bunnies and having fun all day with their galactic milkshake industry. You can bet there will be twists and turns (but not too twisty or scary), and the good-hearted will win out in the end (but not too easily) over the mean bullies (maybe those birds? they suck), who just might be convinced to change their ways.

So grab a little one that you want to introduce to comics — if you don't want to be see reading it by yourself — and follow along together as Blue tries to find his place in a galaxy that doesn't know what to do with a lactose-intolerant bunny. OMG I just read that last line back to myself and I almost squealed, it's so adorable.
---
Spam of the day:
FIFA coins
The filters were actually empty until just after I hit Publish, but the spammers came through. A little terse (that's the entirety of the message), but beautiful in its own way.
________________
¹ Non-Canadians working on a comic don't disqualify it from consideration, but you will see things like a nominated anthology listed as by [Canadian] and [Canadian] (with various non-Canadian artists).