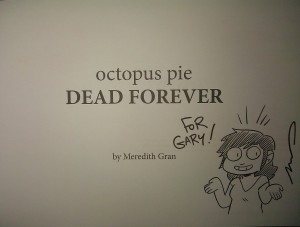 Received in the mail today: one copy of Meredith Gran's latest Octopus Pie collection, Dead Again. I can't wait to read it tonight¹; I think this is the pivot pint where Gran went from Damn good comic take on life to Amazingly revealing examination of our lives and times (with jokes). Highest recommendation.
Statistically speaking, Danielle Corsetto will be coming to a place near you this summer, as she heads off on a ten-year stippiversary signing tour of more than 20 cities. Naturally, such an undertaking requires time, planning, and plenty of gas-and-toll money (if my map-reading skills are up to par, she'll be passing through 30 different states, with stops in 18 of them across a period of six weeks and some 14,500 km).

And yet her biggest concern is having enough money to pay artists to put up guest strips in her absence, so she's Kickstarting the whole shebang and has hit about 75% funding in the past four hours or so. She won't be getting rich on this tour, and considering six weeks away means six weeks of not working on strips that could fill her next book or other merch that would pay for little things like rent and groceries, it seems like a break-even proposition at best. Giving a few bucks to this campaign isn't to benefit Corsetto — it's to benefit your fellow fans. Just sayin'.

One place that Corsetto won't hit on her tour (mostly because she'll be back home for a month by the time it rolls around): SPX in Bethesda, Maryland (but that doesn't mean she won't hit it after her tour). But lots of other people will be, and I went down the initial exhibitor list to see which creators you might want to make plans to see. As always, this is a preliminary listing, produced by scanning more than 700 names, so my apologies if I've missed anybody. That being said, webcomickers and natural allies at the show will include:

Amanda Lafrenais, Ananth Panagariya & Yuko Ota, Audrey & Jamie Noguchi, Blue Delliquanti, Box Brown, Braden Lamb & Shelli Paroline, C Spike Trotman, Carla Speed McNeil, Christopher Hastings, Danielle Corsetto (told you), Darryl Ayo, Dave Roman, David McGuire, Dean Trippe, Drew Weing, Dustin Harbin, Eric Colossal, Evan Dahm, Jess Fink, John Green, Julia Wertz, Katie Sekelsky, KC Green, Kel McDonald, Kory Bing …

[inhale]

… Madeleine Flores, Magnolia Porter, Matthew Bennardo, Meredith Gran, MK Reed, Molly Ostertag, Monica Ray, Phil McAndrew, Rachel Dukes, Raina Telgemeier, Rebecca Mock, Sara McHenry, Shmorky, Sophie Goldstein, Sylvan Migdal, Tom McHenry, Tom Siddell, and Tony Breed, not to mention your Firsts Second, Topatos Co, Tops Shelf, and other quality publishers. Drop by and tell 'em you enjoy their work.
_______________
¹ Or, more properly, reread it, since I read each of these strips as they updated, and frequently went back to read entire story arcs because they're that good.