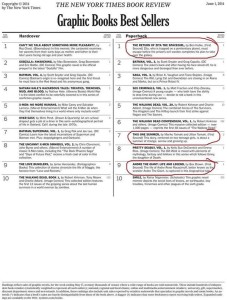 Oh my goodness you people have never heard of long holiday weekends, have you? When you consider that :01 Books managed to place three (out of ten) books on the New York Times softcover graphic novel bestseller list (including the #1 slot to Ben Hatke's The Return of Zita the Spacegirl, This One Summer by Mariko and Jillian Tamaki at #7, and André The Giant by Box Brown in position #9), that's pretty damn impressive¹, and that's just where we're starting today.
Anybody that reads this page will have seen Poorcraft mentioned more than once; it was an early webcomics Kickstarter (a full four and a half years ago, raising US$13,000 for a comics project was nigh-unheard of), and it's been mentioned time and again for its clear, lucid advice for making it suck less to not have a lot of money. You can buy a copy for US$10, a scratch-and-dent copy for US$5 (a classic Poorcraft strategy), or a PDF for US$5, but if you were in desperate need of Poorcraft's lessons and couldn't even scrape up a spare fiver, what were you to do?

Be patient, basically, and see your patience pay off: Poorcraft (the book) is now Poorcraft (the webcomic), with daily updates from now until the entire thing is posted:

Poorcraft was Kickstarted in 2009 and completed in 2012. And now, I'm posting the whole thing online for everyone to enjoy. I'll be updating it every day with a new page, until the entire comic's been posted. Where applicable, I'll also be adding author's comments and updates here in the text section.

This should take a few months. About five, to be exact.

Kudos to Spike for sharing the wealth, so to speak.

I first noticed via the twitterfeed of Maki Naro a link to Tumblr that shared the news: Zach Weinersmith has released his latest collection of SMBC strips in French, and he's got the incomparable Boulet to provide a preface, as well as to illustrate one of the pages in the book.

And because Boulet is very, very kind to we whose command of French is less than complete, you can read his contribution both en Français and in English. I'm glad these two creators seem to have buried their differences and hope to see them work together more in the future.

Jeff Smith won a pretty big award over the weekend, and I'm honestly a little conflicted about it. I want to be very careful about this, partly because I stand second to no man in my admiration of Smith's body of work (I hold him to be analogous to what the Japanese would call a Living National Treasure), partly because he's always been gracious to me in person², and partly because I'm a part of the process that led to Tüki being nominated for the NCS Online — Long Form division award. Understand that I congratulate him most sincerely and I would begrudge that gentleman nothing in this life, but I think he got the wrong award.

I think that the NCS membership voted him a lifetime achievement award instead of an award for the quality of work in a single year. Tüki Save The Humans has, to date, published 26 pages (chapter two is yet to start after the post-chapter one hiatus), with perhaps a third of them actually in calendar year 2013. I'm pretty sure that Smith would be the first to say that he's only gotten started and the best work on Tüki is still to come.

Much like Steve Purcell's Eisner win, I think I would not have these misgivings if Tüki had run all year, or if it had won out over work that was of poor quality — but anybody that would characterize Family Man, Dicebox, or Red's Planet in such terms would be thoroughly mistaken.

Did Smith benefit from name recognition? Undoubtedly. Would it be easier for the NCS voting membership to look at a work with fewer updates from the start of a story, instead of one with dozens of updates and a storyline stretching back years? Almost certainly. Does it take anything away from a career to say I lost an award to Jeff Smith? At the risk of cliche, that's a nomination that's an honor by itself. But I do think that this result undervalues the potential of Smith's future work as well as the present work of his co-nominees Dylan Meconis, Jenn Manley Lee, and Eddie Pittman.

Of course, the purpose of the NCS Awards is not to reward my personal preferences (although they did with the selection of Ryan Pagelow's Buni, which was my favorite of the three nominees in the Online — Short Form division), but for the the membership of the NCS to recognize what they think is the best work in a given discipline. A few short years ago we would not be having this discussion at all, as online comics were not considered by the NCS, with the members of that organization the worse off for their narrower focus. In just those few short years they've been exposed to — and recognized — work that is incredibly different from the vast majority of what the NCS honored for the majority of its existence, and that in and of itself is worthy of celebration.
________________
¹ Especially when one considers that :01 is essentially a four-person operation, and typically puts out fewer than two dozen books a year. Quality over quantity, my friends.
² We are far from hanging-out-on-a-Wednesday-night buddies, but for more than a decade now Jeff Smith has taken the time to greet me and ask how I'm doing on the infrequent occasions when we see each other, and it would kill me to repay that kindness with discourtesy.