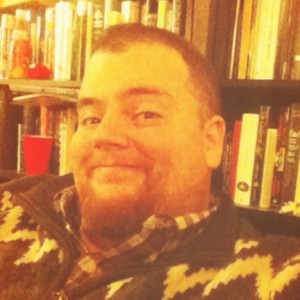 Welp, everybody's on their way to Toronto for TCAF, where I would ask that all attendees hunt down showrunner Christopher Butcher (above) and give him a big ol' hug¹. He's done fantastic things with the show and for the exhibitors, and he should be acknowledged for that. Oh, and if you happen to know Butcher personally, I'ma suggest you just assume he's in a coma from Monday until, oh, let's say Thursday.
For those of you not heading north, or heck, maybe you as well, let's look to some city-specific comics-things happening in a different part of the world. Unfortunately, work kept me so busy last week when I was in San Francisco, I didn't have the chance to drop by the Cartoon Art Museum; it's a terrific place filled with terrific exhibits. Fortunately for all, my lack of available time didn't prevent the CAM from continuing in its mission, a big part of which is outreach to the community and spreading the knowledge and habit of making comics to as many people as possible.

To that end, CAM will be running cartooning classes every Sunday in July, with two parallel tracks aimed at kids (7-12) with parents², and independent youth (12-16) who already have some cartooning chops. Kids and parents sessions run 11:00am to 12:30pm, and older kids 1:30pm to 3:30pm, at a cost of US$10/person (kids + parents) or US$35 (US$30 for members) for older kids.

Supplies are provided (although older kids are encouraged to bring their own portfolios & tools), museum admission included, and the sessions will be taught by Nina Kester (6 and 20 July) and Brian Kolm (13 and 27 July). Check out the scheduled topics for class (Ninja Turtles; Animation; Heroes & Villains; Adventure) at the ticket site (kids+parents; http://guestlistapp.com/events/251868) for more information.

Yep, called it: Heart of the City continues its love affair with Smile today. Given that Sunday's strip is probably part of the week's storyline, tomorrow will likely feature Heart's mom loving Smile, as all right-thinking people do.
_______________
¹ Alternately, a big ol' slug of booze. Depending on the state he's in, it might be more appreciated than the hug.
² Up to two kids per adult; sorry, grown-ups, you need a kid with you to attend.