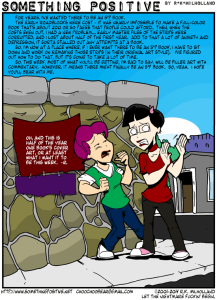 Relatively quiet weekend, relatively busy Monday. Let's do this.
Oh my, that blew up further than I thought it would; the last four days of Smut Peddler 2014 were in the top six days of the full campaign, and the final total just cleared US$185K, for creator bonuses of a staggering $US1700. Well done Spike, and everybody that loves the porns. Which, based upon the previous SP collection and the Sleep of Reason collection, leads us to the conclusion that porn is 2.8599 times as popular as horror.
Speaking of Kickstarts, the latest book from Johnny Wander creators Yuko Ota and Ananth Panagariya¹ has just gone up, meaning you've got a chance to get a copy of Cuttings in a handsome hardcover, or an even-handsomer limited-edition hardcover. It would appear that this collection also includes perhaps my favorite Ota/Panagariya collaboration: PONY COP. Everybody jump on this so I can get PONY COP in a handsome hardcover book, please. As of this writing, Cuttings is just shy of 40% of the way to goal, which is just shy of 60% too little. Step it up, people. Do it for the children.
TCAF, one of the best shows on the comics show calendar, runs this weekend in a now certified crack-smokin'-mayor-free Toronto. Today, the full programming slate was released, with multiple tracks of goodness packing the two days. There's a full track for children (Kean Soo! Jeff Smith! Dave Roman! Ben Hatke! Raina Telgemeier!² Kazu Kibuishi! And many more!), a Canadian reading series (Tony Cliff! Karl Kerschl!Jillian & Mariko Tamaki! And more!), round tables and interviews and profiles (Lynn Johnston! Chip Zdarsky! Jeet Heer! Box Brown! Spike! Katie Shanahan! Rachel Duke! Mike Maihack! Noelle Stevenson! Kate Leth! Tom Spurgeon! Heidi Macdonald! Kate Beaton! Meredith Gran! KC Green! Tom McHenry! Jess Fink! Faith Erin Hicks! Becky Cloonan! Cameron Stewart! Becky Dreistadt! Ryan North!), and, of course, George.

If you think I'm linking to anybody other than the mononymic George, you're crazy.

Not to do with Kickstarts, Cuttings, cats, or comics arts festivals, and possibly my even mentioning it could spiral out of control and cause the creator in question to 'splode, but what the heck: Randy Milholland has heard the plaintive cries of his many fans and lo he has smiled upon us. There are finally — even now, unto the seventh generation we have waited — concrete plans for the first Something*Positive collection.

It is a long way off, and will involve a lot of work on Milholland's part, which means that everybody that's ever wanted a copy had better be prepared to step the crap up and make a purchase³ when the time comes.

And there was much rejoicing.
_______________
¹ Who were apparently cats all this time. Who knew?
² Speaking of Telgemeier, she's just reached an astonishing 100 weeks on the New York Times bestseller list for Smile. Wowzers.
³ I am speaking here directly to the many, many people that have bitched to Randy over the years that because he did a donation drive to quit his day job and draw the strip a decade ago that they are entitled to as much free entertainment as they see fit to demand from him. Without fail, these people are never in Milholland's records as actually having donated, but they have a massive sense of entitlement anyway. Time to quit the passive-aggressive games and prepare to finally drop some cash, fakers.