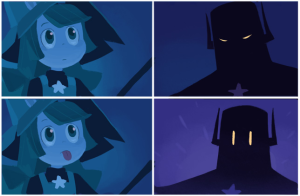 What's that word again? Oh, yeah.
You may recall I had some questions re: Amazon buying comiXology:


Will Apple still get their cut of comiXology sales, or will Amazon (maker of the Kindle) sunset those contracts in favor of their own file formats and standards? If so, will we see fewer comics being rejected by Apple's content police? After all, Amazon doesn't appear to have a problem with smut, no matter how wacky. Most importantly, is it a good thing to go from a dominant player in a niche industry partnering with a (indeed, the) megacorporation to that dominant player in a niche industry being owned by a somewhat-smaller megacorporation while partnering (perhaps temporarily) with the other?

And it appears that as of this weekend, the answers to the first two questions have changed from Dunno and Very possibly to Oh my yes and Yepper, only without the whole "sunset" part:

Amazon has decided to avoid Apple's 30% cut of in app purchases by removing the option from digital comic book platform Comixology for iOS users.

The chief question in the immediate aftermath of the announcement was Who gets that 30% of revenue that was freed up, the publishers and creators? but quickly shifted to Holy crap, how will people on the dominant comiXology platform do any impulse buying?:

For those of you who don't know what I'm talking about, as of yesterday, Comixology removed the storefront from its digital reading app for comics on the iPad and iPhone. It didn't replace it with anything, just a link that takes you out of the app to the Comixology website. No big deal, right? Just one (or two, or three, as it turns out) additional step for the fanatic comic book reader to access comics on his digital reader. Nothing to get upset about.

Wrong. This is a very big deal, because it strikes to the heart of what made Comixology's app a near-perfect venue for discovering and falling in love with new comics, a venue creators and publishers have been searching for since the collapse of mainstream newsstand distribution in the late 1970s-early '80s: it destroys the casual reader's easy access to an impulse purchase. And that's a terrible development for the future of comics.

Amazon did this. It did it for one reason, and one reason only: to advance their proprietary hardware platform, the Kindle, at the expense of Apple's platform, the iPad and iPhone. They have deliberately degraded the iPad and iPhone Comixology app so that users of the Kindle will have a better reading and purchasing experience. That's all this is about. They've destroyed the future of digital comics to give an advantage to their hardware platform — and, in passing, to leverage their control of digital comics distribution to do to comic book stores what they've already done to brick-and-mortar book stores.

That was longtime comic book vet Gerry Conway, with what I think is the best analysis of the change so far. Barring a post (with numbers) in six months or so by Jim Zub (who is spot on in his writing on the comics industry from the creator's view), I don't think we're going to get a more compelling or accepted narrative than that.

Longtime creators showing up in new places this morning. I saw an announcement last night that Jon Rosenberg¹ has taken Scenes From A Multiverse to Hiveworks, presumably for the purposes of ensuring that Horace Greenstein, Scary Owl Lawyer stares out at as many people as possible from as many pages as possible. All hail. Meanwhile, the hallowed halls of TopatoCo are now offering the bacon-themed Diesel Sweeties collection as the powerhouses of *hampton combine forces and prepare to conquer all before them. All hail even more.

The point being, you can't have a static career in webcomics; Small, fast, ruthless, … all Edge is how Stevens has conducted his career, and anybody making a go of independent creation needs to adopt his methods. Rosenberg started the original FLEEN constituents of which now occupy places at the Keen empire, Halfpixel/Toonhound, TopatoCo (itself incorporating the remnants of Dayfree Press), and the mutual non-aggression pact known as Dumbrella. Having the ability to shift to the new platform, the new ad collective, the new merchandise-fulfillment channel is the essence of making sure that you don't fall into stasis, which is just one step away from irrelevance.

Not quite on theme, but absolutely worth mentioning: For three years or so, Gigi DG's Cucumber Quest has been providing the lushest, most eye-pleasuring art and story, and has now reached the milestone of 500 pages. Sure, lots of comics reach 500 updates, but full page, full color, and with a sense of design so strong that merely sticking out a tongue says volumes, even if you don't know the characters at all? That's a rare accomplishment and everybody should congratulate Ms DG.
_______________
¹ The guy that first started me blogging and the owner of my soul; I got a dollar for it!