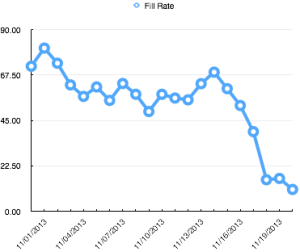 Ah, webcomics. You have mysterious ways, rules that are unique to your world, rules which are not always apparent even to you. Sometimes they work for you, sometimes they work against you.
In the working for you domain, Kris Straub ran up against one of the fundamental rules of webcomics — the First Law of Fanart states that If you make something cool, other people will make new stuff inspired by you. Naturally, said new stuff is subject to Sturgeon's Law, but even the ninety percent can give you a warm, fuzzy feeling inside: I inspired somebody! And that last ten percent? Sometimes it's very, very good:


Several months ago, David Graey, a composer/performer and fan of Broodhollow, let me listen to a piece he wrote for Curious Little Thing. I was really impressed, and even more impressed to learn he had an entire album in him. It's now on sale — 33 minutes of soundtrack music for the first Broodhollow book! 13 tracks and a digital booklet of liner notes from David and myself!

To sum: a musically-inclined person was inspired by Straub's webcomic, and put together compositions good enough to make into a product with Straub's blessing and cooperation. Graey and Straub¹ make a little money, we get to hear some scarily-appropriate music, and Graey may find himself the Patrick Doyle, Danny Elfman, Howard Shore, or James Horner of webcomics. Seriously, how great would it be for a very mood-specific soundtrack to be released with your favorite reprint collection? Say, Table Titans, Monster Pulse, Family Man, or Vattu? Just think about it, creators, okay?

In the didn't even know it was there domain, hidden metadata regarding your site, which affects the advertising you might be able to obtain for your screen real estate. Jennie Breeden and her husband Obby saw a sudden and unexplained drop-off in the advertising rates for The Devil's Panties and it took some digging to find out why. Bottom line: a seven-part score of the — let's say respectability — of the site decided that on the Adult Content scale, Breeden's autobio was judged as unsavory as hardcore streaming porn.

The process of finding out that these scores exist, correlating them to advertising efforts, and the possibility of getting them adjusted to reflect reality are the subject of a technical writeup at Medium that you need to see if you ever use (or may in the future use) advertising on your site. The (so far) rather opaque nature of the TRAQ (for that's what it's called) scores and the not-terribly-well-defined process for getting bad scores re-evaluated underscore the importance of a fundamental rule: the First Law of Your Website's Reputation states that nobody will care about your site as much as you do, and you ignore attempts of others to characterize you and your content on their terms at your peril.

In the nothing is ever static domain, a reminder that the infrastructure of the modern internet is always changing — Kickstarter announced that in addition to their project categories, there will now be subcategories. The oft-used (at least by readers of this page) Comics category now has five subsidiaries, Anthologies, Comic Books, Events, Graphic Novels, and Webcomics.

The greater granularity may make it easier to avoid ill-fated projects like the guy who has the greatest comic book idea ever but has never actually made a comic book and those that look at Kickstarter as the magic money machine. I have a feeling that these doomed projects will tend fall into the Comic Books category, with some spilling over into Graphic Novels. Webcomics, I have a feeling, will be for people that have a body of work you can look at and judge, and Anthologies the same thing writ large, as there will be multiple people whose work you can judge. Events will most likely remain a wildcard.

I know that you're expecting a fundamental rule at this point, and I have to go back more than 30 years to cite something I heard that I've since come to think of as the First Law of Ubiquity: don't reference anything (in entertainment or advertising or business) you'd have to explain to your audience. Kickstarter's audience may be somewhat more internet-savvy than the general population, but not by a tremendous amount. Yet there it is: Webcomics, without further explanation. I'd say that's only a good thing.
_______________
¹ Himself no slouch in the musical realm.