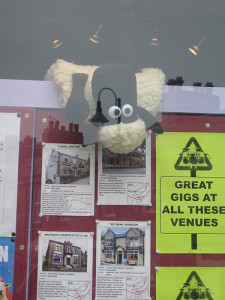 Ah, Easter weekend, when the come out. I gather that there's an outrageous nomination or two, which judging by the backlash should sink pretty quickly before the World Science Fiction Convention (this year at LonCon) comes around in August. But that is not what I want to talk about. I want to talk about the Best Graphic Story category, now in its sixth year.
For the first year, Howard Tayler¹ will not appear on the ballot in this particular category. Not for lack of quality, mind you, but because the storyline that ran throughout 2013 (starting, in fact, on the first of January) didn't finish until March of this year and was thus ineligible. No doubt Tayler will be back next year (and if he'd be a little more compact in his storylines, the year after that as well).

One might feel bad that Tayler was unable to keep his unstoppable juggernautery going for a sixth year, but he's still nominated for his work with Writing Excuses, which won the Best Related Work last year and thus has the potential to repeat. Regarding his inevitable return to the Best Graphic Story, rest assured that it will still be some time before there is another five-time nominee in this category, and there may never be another five-times-in-a-row nominee.

For the fourth time in six years, the Foglios are back on the ballot, having swept the first three years and taken some time off to give others a chance. But now they're back with Girl Genius Volume 13, and even if they lose, they'll still have as many awards in the category as everybody else ever put together. I'd say that they were pretty damn unstoppable.
But then you have to consider who won last year: Brian K Vaughn and Fiona Staples for Saga Volume 1, which (rightly) dominated a hell of a lot of awards programs. They're back this year with Saga Volume 2 which — to my reading — was even better than Volume 1 and which is (rightly) dominating a hell of a lot of awards programs this year. They've got a lot of momentum behind them, and they may prove to be — dare I say it? — an unstoppable juggernaut.
I am not familiar with two other nominees, The Girl Who Loved Doctor Who, and The Meathouse Man; but consider that the former was written by Paul Cornell (who wrote perhaps the best, most beloved story of the modern Doctor Who era, the two parter Human Nature/The Family of Blood) and the latter by George RR Martin (perhaps the most-anticipated writer in SF/F), and it would be tough to count either of them out. Each of these two would easily qualify as both unstoppable and a juggernaut.
Then there's the last nomination, which is perhaps (due to its form) the most challenging work up for consideration, and which practically defines the term unstoppable juggernaut. xkcd #1190, titled Time, caused a sensation when it was released in March of last year — it played out one static image (call it a frame) per hour, over the course of 3100 hours, or a mind-boggling eighteen and a half weeks². Its scope is tremendous, the pace audacious³, and as often happens with the wildest installments of xkcd, people have built ways of navigating the story.
These are the nominees. Whatever happens, there's two in five chance that the winner of the category will be — for the fifth time in six happenings — a webcomic. And that is our last unstoppable juggernaut for today.
_______________
¹ My evil twin, etc, etc.
² One might argue in fact that it's actually a Dramatic Presentation, but which one? The total number of frames makes it Short Form, but its runtime exceeds even the longest of Long Form entries.
³ Just consider the effect if Randall Munroe had up and quit cartooning somewhere in the middle — it would have kept running for perhaps months after he'd otherwise stopped.