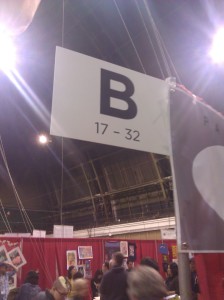 On Friday I was wondering if the new center aisle configuration would work at MoCCA Fest and it turns out, it sure did. You walked up the stairs and into the hall, jogged around the Society of Illustrators table (perhaps taking the time to marvel the surprisingly short line for Fiona Staples) and there you had it in front of you — an aisle designed purely for travel, with access to nearly the entire show floor. It was brilliant, as long as you didn't get caught up in any of the mooring lines for Charlie Brown.
Speaking of, Charlie Brown was not the best thing above eye-level in the hall — it was the navigational signs that were found at each end of each rank of tables, which made getting around the show trivially simple one you realized one little thing: the booth numbers on each signpost represented both sides of a fabric divider line. I'm pretty sure that one small change to the signs (maybe a horizontal variation on the u-turn symbol) and they'll be perfect.
One could argue that the signs weren't even really needed in a venue as small as the 69th Regiment Armory, but you know what? Nobody's ever done signposting this well before, in a large venue or a small one, and maybe now we'll see more shows taking up the idea. Yeah, it'll take some detail-oriented planning, but dang was it a nice touch.
Speaking of detail-oriented planning, I want to recognize Neil Dvorak of Easy Pieces Comic for putting together the best table design I've ever seen. Nothing about the look-and-feel of table C8 existed but that it provided the impression that you were in Dvorak's world now, and everything beyond his immediate proximity was the noise of the outside world and wouldn't you rather be here where it's nice and civilized?
It worked on me, and I was happy to pick up a packet of his individual, brief, conceptually linked comics and associated ephemera, which have left me with the impression of a documentary work looking at an askew world of bizarre happenings, corporation/cults, and one man's search for sense in it all. If Welcome to Night Vale was crossed with a '50s-era social hygiene film and existed in craft paper envelopes, it would look like Easy Pieces.
So that was my big discovery of the show. Along the way I was lucky enough to talk with some terrific creators about what they're doing; this list includes (but is not limited to):
Finally, I would be remiss if I didn't note that I ran into Brigid Alverson and Johanna Draper Carlson — two of my favorite people on the ink-stained wretch side of things — outside the Armory and we took some pictures together. After that, I completely missed seeing them again on the floor. Oddly enough, I've never met up with either Brigid or Johanna by intention; we always just seem to bump into each other, which is part of how I know it's going to be a good show. Ladies, it's always a pleasure.
________________
¹ Of all the things I never thought I'd have a "favorite" of, but dang if her work for :01 Books doesn't grab me and make me want to read inside.