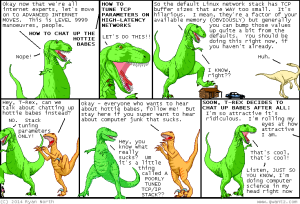 There are so many things that made people anxious with waiting, I barely know where to start.
For years — years! — we have been without a new Octopus Pie collection. My copy of Listen at Home with Octopus Pie has been thumbed through many times, There Are No Stars in Brooklyn may fall apart if I flip through any longer, and my copies of the self-published first three books must now be handled with museum gloves to not disturb the treasures within¹. And now! New book!


The long-awaited Octopus Pie: Dead Forever is the first new book of OP material since 2011!

The pre-order period goes until April 15th. If you order during this time, you will be helping to fund the actual printing of the book! Pretty neat.
Octopus Pie: Dead Forever includes the following chapters from the webcomic:

… where follows a list of thirteen storylines, from Moving On to Simple Breakfast, including the heart-rending Brownout Biscuit and Octopie Wall Street, which continue to resonate down to the most recent comics. This book could only be better if it included Couch Sitter, the source of Meredith Gran's most inspired throwaway gag — a cafe with service by handpuppets — but since that was already included in Listen at Home I can't really complain².

Dead Forever is now pre-orderable for US$17 signed or US$24 for signed and sketched; shipping is expected in about a month, but Gran will likely have a modest supply to premiere the book at TCAF.

For months — months! — we have been without a new datapoint in the greatest cultural debate of our times; namely, What is more popular, porn or not-porn? So far, there are two data points, as Smut Peddler 2012 raised US$83,100 in its Kickstarter, where The Sleep of Reason managed US$46,925, making porn 2.17 times as popular as not-porn.

However! As a data-wrangler of some long practice, I recognize that a population size of two means that our statistical conclusions have a margin of error that is enormous. We need to add more porn and not-porn data before we can have any real confidence in our conclusions. Fortunately, we're about to get some.

Behold: Smut Peddler 2014 is now Kickstarting, features the same high totals benefit the creators model as SP2012 and TSOR, and will add to our understanding of this critical question. As per our previous conversations, anthology wrangler par excellence Spike plans to alternate porn and not-porn collections, which means in just another five decades or so, we should know definitively what's more popular³. Anyhoo, some three hours in SP2014 is 65% funded, which bodes well for the contributors gettin' a nice bonus check in a couple of months.

For hours — hours! — earlier today until just a little while ago, Dinosaur Comics had hosting problems and the venerable qwantz.com was down. Society held its breath and somehow came though the dark times, no doubt relieved that a giant among webcomics (by a giant among men) was back in its proper place. Moreso, no doubt, because said giant, Ryan North, had big news to share:


Hey did you see Marvel announced yesterday that I'll be writing a Young Avengers miniseries for them? I AM EXCITED.

The only way I see this turning out badly is if North's now-established comic-book writing skills become so sought-after that he works himself too hard and spirals into a hole of overwork, cocaine brawls, and an untimely death. Otherwise, all good.
_______________
¹ Namely, the hand-applied rendering of sparklebutt.
² Yes I can, every OP collection should include Couch Sitter and holy glob did that story actually start in January 2010 where the crap does time go. I'm old.
³ It's porn. We all know it's porn.