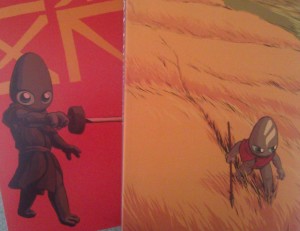 Vattu: The Name And The Mark is book one of Evan Dahm's Vattu, the latest story from Overside, which feels like it's presently approaching the end of book two.
You guys, in case I haven't said before — and I know I have — Vattu is so good, and having the book in hand is making me read it all again in one go. The last of this book — the story of how Vattu came to the city and made her way to the streets to live on her own, with the companionship of the War-Man — was some 250 page updates ago, or nearly two years. We hadn't seen any of the politics of Sahta, or the Surin, or wonderful, wonderful Juni. The mysteries of unweight haven't been explored yet, nor what feels like the seeds of two revolutions: Vattu's being violent and freedom-seeking, Juni's being scientific.
Instead we get the story of Fluters, Those-Marked-in-White, and Vattu's birth. The petty anger and hatreds of Vanni who became the Priest and sold out Vattu. The dangers of living a nomadic life that is short and a challenge to survive each day. It's lush and beautiful and Dahm's ecosystems (rivers and oceans, plants and animals, predators and prey, yes — but just as much empires and colonies and tributaries) retain their organic, evolved, lived-in appeal.
Vattu: The Name And The Mark was produced via a Kickstarter campaign, and as fulfillment of those orders finalizes, I would expect to see two things happening:
The book should appear in Dahm's store and if you don't have a copy you should buy the hell out of it; you may also perhaps have the opportunity to do so this weekend at Emerald City Comic Con.
Before too long, we'll reach the end of book two, and there will be a new Kickstart to get that collection in our hands.
Personally, I'm ready to give Dahm the money for it right the hell now because damn, this is a marvel and the story only gets better from here.