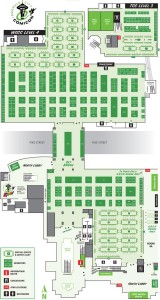 It's nearly time for Emerald City Comic Con in the city with the needle that reaches to space. Half of webcomics will be there, what with TopatoCo throwing down a challenge to all and sundry:
We are outgunned and outnumbered but we believe we might win. Maybe. We have street smarts and gumption and all that. We will have STUFF. We will have THINGS. We will have surprises. We will have the WILL TO SURVIVE. But most importantly, we will have friendship. And street smarts.
Also the power of Emily Horne & Joey Comeau (badass tattoos), Aaron Diaz (once beat up a gang), Becky Dreistadt and Frank Gibson, Tyson Hesse, Jeph Jacques, Kate Leth, Sam Logan (demolitions expert). David Malki !, Ryan North, Dante Shepherd, and Chris Yates (uses power tools like, all the time).
Opposing them will be the combined forces of David Willis, Joel Watson, the C&H crew, with various assists from Jennie Breeden and her stompy boots, Angela Melick and her 3D printer, Periscope Studios and special asskickers Amy T Falcone & Abby Howard, and the Guigar/Kurtz Axis of Awesome.
Trying to stay above the fray and avoid casualties, one may find vision-impaired mustelids, representatives of the local mad genius, Blerch control, and library communities, a strange attractor of fantrolls, and makers of potentially-killer robots from an isolated lair.
Wondering why they're surrounded by weirdos, Evan Dahm, Kory Bing, and Magnolia Porter will seek to keep a sense of normality in a 10 meter radius of their booth, which will surely fail due to the proximity of Human Beard Randy Milholland and his handler/convention wife, Danielle Corsetto. Plus whoever I missed.
Don't even get me started on the programming, where you'll find Dean Trippe talking about Something Terrible, as well as many of the aforementioned exhibitors. Oh, and that Dave Kellett will be at the Unshelved booth, with STRIPPED DVDs for sale.
Me, I'll be home in New Jersey, wishing such a great show with so many great people weren't a continent away. Dang.