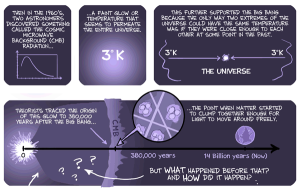 I was going to put up a picture of Omar Little and Robb Stark in sort of a tribute to Things That Are Coming, but there's only so far I'm willing to stretch for a joke. We'll just have to content ourselves with a chunk of space-time instead and look at some new things this week as it wraps up.
_______________
¹ With a technical assist from Jon Kaufman, a member of the BICEP2 team that found the confirming evidence. Sometimes you have to go straight to the source.
² Case in point: I mastered semiconductor physics back in college largely because Dr Art Western (who, among other things, amused himself by sitting on a bed of nails outside his office on Parents Weekend and briefly held the world record for a high-temparature superconductor, back when double digits in Kelvin was a big deal) managed to explain charge migration via a diagram involving crazed squirrels avoiding traps.
Also, shamed by his grade-school daughter for not being a good enough teacher, if you got an A on one of Dr Western's exams, you got a gold star (two gold stars for a perfect 100!), and collecting three or more by the end of term meant you could trade them in for a Batman sticker. Two exams in the 90s and one in the high 80s meant I came just short of the sticker, but I got an A for the class.
³ Structurally, it's a series of frameless images with captions, which makes it feel like the work of Erika Moen, or Wendy McNaughton, or Molly Crabapple.
4 Necessitated by her I'ma eat weird prepackaged foods with my husband so you don't have to podcast, Kevin and Ursula Eat Cheap. It's a riot.