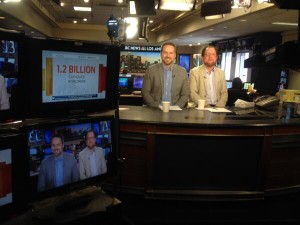 All LA-casual rumpled clothing and smiling faces. I'd buy life insurance from them if they were selling door-to-door. They being the notorious film/comic hivemind Freddave Kellett-Schroeder; they're on the move, in these final weeks of moving STRIPPED towards a 1 April iTunes launch, and now towards a fancy-pants Hollywood premiere event:
Tickets now avail for the @strippedfilm premiere! We're giving away 10 Watterson posters that night! http://strippedfilm.bpt.me
The skinny: Wednesday, 26 March, at the Cinearama Dome Theatre on the fabled Sunset Boulevard, from 7:00pm until they throw you out, for the low, low price US$20 (plus service fees). Be sure to dress up, there will be celebrities there, along with Messers Kellett-Schroeder. Wish I could be there, tell the paparazzi I said hi.
Rebecca Clements has been absent from comics for a bit, something about getting a "graduate degree" in "something important that matters to the world"¹, but she's got a new Kinokofry today, featuring everybody's favorite blue globby dude … IN SPACE. Go, Space Engineers!
Kristen Siebecker's ongoing class series on How To Not Suck At Wine (not the official title) rolls on, with the next session devoted to the most elegant (and sneakily alcoholic) of boozes: champagne and other sparkling wines. Fun starts for those 21 & up at West Elm in Chelsea, on 20 March from 6:30pm. Ten percent off the cost of class if you use the super-secret discount code EMAIL10.
Scott Kurtz has done a lot of comics, but it seems like the one with the most heart in it (if we don't count Wedlock, but that's lost to the ages) is Table Titans. The first year's story arc concluded recently, which means that it's time for the print collection, and since preorders are passé, the requisite Kickstarter launched today.

It's over 20% of goal in the first few hours, and by this time tomorrow we'll be able to come up with a predicted total for the 30-day campaign by applying the Fleen Funding Factor to Kicktraq's prediction. But honestly, we can absolutely say this one is going to hit goal, so the only question is if there are any stretch goals not yet announced that will make the book more fancy. I'm betting that there are.
_______________
¹ Urban Planning, to be specific.