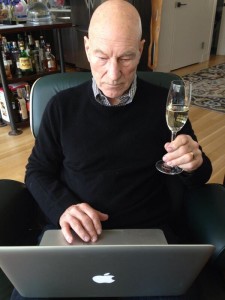 Let's do this, then let's follow Sir Patrick's lead and have a nice drink.
The very sexy R Stevens wants you to know about his presence in Columbus, Ohio, where he is crushing some dreams and selling some stuff:


I'll be in town Thursday through Saturday at CCAD with some far more gifted friends. There is a panel Thursday night you can sign up for. (it's lower on the page) I'm bringing a carload of stuff from my store and can be bribed with pounds of locally-roasted coffee.

You can connect to the event on the Facebooks here. I believe if you just pop your name into the google doc you can go to the panel.

I'll be at Laughing Ogre (possibly with special guests) from 1-3pm on Saturday, too!

The CCAD he mentioned is the Columbus College of Art and Design, where Stevens, C Spike Trotman, Molly Crabapple, and Tanisha Robinson have been letting art students know what awaits them after leaving school, hopefully using the words doom, starvation, and embitterment in the right proportions.

Following up on the observations of KB Spangler re: Kickstarters 'tother day, Minna Sundberg shares how a crowdfunding can be monstrously successful and go pretty much according to plan¹ and still be a complete nightmare. Read it carefully.
Zach Weinersmith is on the cusp of becoming a first-time father, which any reasonable person would expect having an impact on his creative projects. That might explain why Weinersmith released an ebook ten days ago and a second one earlier this week. Twins in Time is a child-aimed picture book told in rhyme about relativistic physics² with longtime collaborator Chris Jones. Look for between one and fifty-three more projects to drop from Weinersmith in the immediate future, depending on when labor starts.
The Cartoonist Studio Prize, nominations for which were announced a month ago, has been awarded, and the winners are Emily Carroll in the Webcomics category, and Taiyo Matsumoto in the Graphic Novel category; in addition to the acclaim of all, Matsumoto and Carroll each get US$1000, which is a pretty good complement to a fancy plaque.

As noted when the nominations were released, pretty much everything in the running this year was worthy of recognition, but it's hard to come up with webcomics better than Carroll's Out of Skin. We'll let this discussion of merit and quality take us out; now let's all get drunk and play ping-pong.
_______________
¹ She received the books a month sooner than expected and just finished shipping; considering the original plan was for shipping to take place in springtime of 2014, I'd say she did pretty damn well.
² Specifically, the so-called twin paradox relating to velocity and time dilation. Perfect for bedtime!