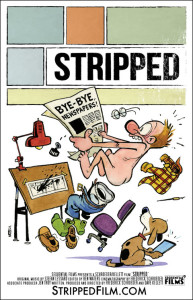 Yeah, didn't think you'd have a problem with that.
Thing the First: In conjunction with the news about the STRIPPED poster, the Washington Post actually spoke to Bill Watterson about his decision to do the poster.
Thing the Second: Filmmakers Freddave Kellett-Schroeder have spoken with admiration about how the first Machine of Death collection hit #1 on Amazon for one day, and are trying to pull off the same trick with STRIPPED on iTunes. And heck if it doesn't look like they might do so:


Guys! You guys! Now @strippedfilm is #7: https://itunes.apple.com/us/movie/stripped/id816065098?ls=1 … JUSTIN BEIBER IS #15! This is the sweetest plum!

Thing the Third: The Dave Kellett half of Freddave Kellett-Schroeder was kind enough to answer some questions from me in addition to the first, brief response he gave yesterday. The interview is presented here for your edification:
Fleen: Okay, so Watterson does the first piece of art for public consumption in 19 years apart from Petey Otterloop for the Cul de Sac benefit book. When did he offer to draw this for you?
Kellett: I think we first approached him about it in December. Possibly … November? I'd have to check. It was cheeky of us to even ask, but as he's been time and time again, he was kind and gracious and said he'd be flattered to do it. He's a good man, and I'm eternally grateful to him for his kindness.
Fleen: Seriously, do you have an original [Watterson] now?
Kellett: I do not. It was a running joke, while it was in LA for super-high-rez-photography, that Fred would jokingly say "Can we keep it? Can we keep it?" But we never considered it. It's such a gift that he'd even draw it, we couldn't ask for anything further. So it sits happily now in the OSU archives.
Fleen: How long have you been sitting on this news?
Kellett: Since Nov/Dec, when we asked.
Fleen: Can I fly to LA and see the original if I promise not to steal it?
Kellett: [no reply; possibly wondering if I am capable of comprehending that he doesn't have the art in his possession]
Fleen: Who the man? Okay, it's you and Fred, so Who the men?
Kellett: [no reply; I imagine at this point he's looking at his watch, wondering if he should maybe be talking to somebody more important]
Fleen: I promise I won't even breathe near it if you let me see the original.
Kellett: [no reply; it is painfully obvious that Kellett is strongly considering asking me to lose his number after all this idiocy]
Fleen thanks Kellett for his time, and we completely believe that what's in the OSU collection is the original and not a clever duplicate, leaving the actual original in a secret, climate-controlled room at Casa de Kellett. We at Fleen are also totally not planning a way to find into that secret room which clearly does not exist and stare at the original which is not there in a state of rapture until they take us away with tears streaming down our faces. Honest.