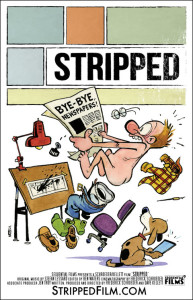 Bill Watterson drew the movie poster for STRIPPED. Holy crap, holy crap, holy crap.
NINETEEN years ago, Bill Watterson drew his last cartoon for Calvin & Hobbes. Well, here's some fun news this afternoon….

Bill Watterson's AMAZING poster for Stripped: The Comic Strip Doc! nyti.ms/1fI7n7P iTunes pre-sales start tonight! WHAAAT
A quote from Freddave Kellett-Schroeder on how the hell they managed this as soon as I can get in touch with him.
Update to add:
When reached for reaction to the completely understandable observation Holy crap Watterson, Mr Kellett replied Ha ha ha! Further updates as his time permits.