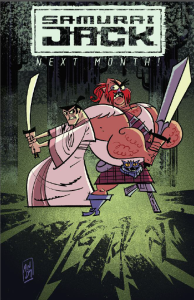 Three things coming up, some more immediately than others.
Jim Zub's Samurai Jack #5 is out today, and in this issue he brings the first story arc to a close (it's been great), and gives us a sneak peek towards next month's issue in a promo ad at the back. Friends, I've been sitting on this news since Zub told me in confidence back in October, but now that the issue's hit the streets, I'm talking. Two words for your pleasure:

The. Scotsman.

Oh, hecka yeah. And yeah, this news has appeared elsewhere, but I promised Zub I wouldn't mention it until something appeared in the comic so there.

Received in the mail (but not yet read): Box Brown's forthcoming work of graphic novel biography, Andre the Giant. It's an uncorrected advance copy so things may change by the time it sees print in May, but I hope that they keep the two front-cover blurbs by Mandy Patinkin and Mick Foley (who, coincidentally, have been two of my very favorite interviews on Fresh Air with Terry Gross). Many thanks to Gina Gagliano at :01 Books, I'm sure that even non-wrestling-watching me is going to love the crap out of this book.
Howard Tayler¹ never stops thinking, never stops planning, never stops looking for a way to a) tell more stories, and b) preferably get paid at least twice² for doing so. It could hardly have escaped his notice that people want to play around in the sandbox that is the Schlockiverse, and even a boardgame isn't enough to satisfy them. Thus, a tabletop roleplaying game is in the works, and you (for a small percentage of "you" that are in Utah this weekend) can participate in a playtest for charity:


[Y]ou should note that the Schlock Mercenary RPG session will be on Saturday from noon until 4pm.

A seat at the table will set you back $25, and that will get you that seat for about four hours of role-playing as a mercenary in the Schlockiverse, with me as the storyteller, and Alan as the referee and "physics engine." The players will be their own mercenary company, and the contract will be a spot of law-enforcement in which they'll be encouraged to keep the collateral damage to a minimum.

Consider, for a moment, what you would expect from a Schlock Mercenary storyline in which Tagon's Toughs were told to keep collateral damage to a minimum. Now imagine yourself embedded in that scenario, and armed with something that goes "OMMMINOUS HUMMM" when turned on, but which you've been instructed not to use under any circumstances.

The beneficiary of this semi-sanctioned (pretend) mayhem will be Junior Achievement of Utah³, at Epic Puzzles & Games in West Valley City. If you can't get a seat at the table, Tayler advises that there will probably be observer space as well. Look for the game in question to show up sometime next year.
_______________
¹ Evil twin, almost time for his fake "birthday", etc.
² In this case, three times, for which I rewarded him with a delicious smoothie.
³ If he were a little more important, perhaps Tayler could have gotten the charity-fundraising gig with Senior Achievement of Utah. Gotta start at the bottom, though.