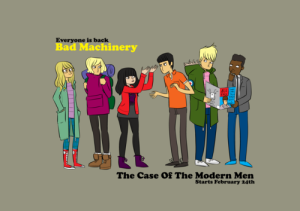 Quick programming note before we get started — I'll be on site with a client for work at the start of next week, with the quality of connectivity unknown at this time. There may be late updates.
On the value of revisiting old work, Part The First: John Allison often takes a break to tell a side-story in between the arcs of Bad Machinery, though rarely as long as the 10 weeks since The Case of the Forked Road wrapped up. Allison scoffed at the notion of taking off for year-end holidays, and quickly settled into a seven-strips-a-week jaunt back to the days of Bobbins, a run which has seen a house blown up, a child wracked with guilt, Tim chased out of a second country, the return of a long-absent character, the rekindling of a long-ago relationship, and a birth under trying circumstances.

Even better, revisiting old characters sometimes leads to a recharge of the creative batteries; Allison is ready to dive back into Bad Machinery, and with a vengeance:

This run of Bobbins ends on Saturday. I couldn't have imagined that something I re-started just because it made me laugh would have proved so popular. It's really reminded me of the joy of daily cartooning and why I started all those years ago. I'll be archiving all the pages from this run on the new Bobbins site, and I see no reason why we shouldn't return to these characters another time. I'm sure I'll do the odd strip from time to time prior to a longer run when the schedule allows/demands it.

That means Bad Machinery returns on Sunday with The Case Of The Modern Men. I'll continue to run strips seven days a week, and see how that works out. I think you'll like this story, it kind of gets back to what I'm about. [emphasis added]

That gives Tim one day to patch things up with Riley, get back to inventing with Scout, Erin and The Boy to decide where they are … Allison will pretty much have to revisit Bobbins to deal with all these stories waiting to be told. In the meantime, though — Lottie and Shauna and Mildred and Sonny and Linton and Jack await, and that's always a good thing.

On the value of revisiting old work, Part The Second: It's been a long damn time since Mac Hall wrapped up, a comic which will never let you think of sad girls and snow the same way again. It's been a long damn time since creators Ian McConville and Matt Boyd shifted their concentration to Three Panel Soul, a concentration that has been interspersed on occasion with other concerns. So it's maybe not surprising that in all that time, the original Mac Hall print collection (200o to 2002!) had disappeared into the aether, as the aether is where it's returned to. Ten bucks on Gumroad, for your immediate gratification.
On the value of your work, period: Dean Trippe wrote something on the Something Terrible Kickstarter page that struck me, about two stories that have recently been related to him. He's made no secret of how making ST was therapeutic for him, but now he's hearing about the value it has had — or could have had — for others:


Right now, I'm in tears because of two stories I got this week. One from someone who reads Something Terrible every day to help them through the darkness, and another about someone who left us shortly before I'd figured out how to tell this story, someone who died never knowing there wasn't a secret monster lurking inside.

To those of you who came here because of my story, thank you. My next projects will be fictional, all-ages, colorful, and fun. But I know that you all understand why stories like that matter to us. Because we shared Something Terrible.

Thank you for making my lifelong dream of using comics to help people come true somehow. It almost doesn't make sense. But here we are. So let's keep going. Together.

Since Something Terrible released, I've thought about it in terms of people who need to read it, and sadly it doesn't appear as if that need will ever go away. Share it, share it widely, get this story to as many people as possible and hopefully those that need it will be among them.