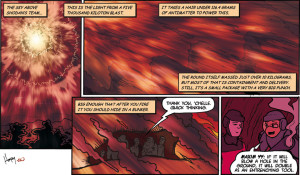 But first: Happy 5000 Strips Day to my evil twin. Also, does somebody who knows Wikipedia want to update Howard's bio to reflect that he's my evil twin? That would be awesome.
Not so long ago I was musing on people that Kickstart new comics and don't deliver and I was thinking to myself Tavis is due to launch in March; I bet he's all over that deadline. Tavis being Tavis Maiden, whom I had the opportunity to talk to at length last summer, about his Kickstarter to launch a new comic, and why would it take him six months anyway? In a word, infrastructure, and he was quite clear that Tenko King would be launching in March. Well, whaddaya know:


Tenko King is coming in two weeks.

Short, clear, to the point, and two weeks from yesterday would be … 3 March, the very earliest he could launch in March on a weekday. The lesson here being, do not doubt Tavis.

David Morgan-Mar (PhD, LEGO®©™etc) is one of those guys I will never stop following online; his comics (of which Irregular Webcomic is just one) are variously funny, inventive, and/or feature interesting technological hooks. His philosophical treatises on science and the world around us are enlightening. And he's going to be launching a new project, soon:


I have a new webcomic idea which I plan to work on and launch some time in the next few weeks. It will be wholly produced by me (as opposed to produced with co-authors like Darths & Droids, or soliciting reader contributions like Square Root of Minus Garfield).

Stay tuned.

Next few weeks? Sounds like it could be March. I'll be over here, perched on these tenterhooks.

In March of last year the internet saw fit to give three quarters of a million dollars to the creators of Cyanide and Happiness for the purposes of cornering the market on hookers and smack making an internet-based show, since attempts to do an actual broadcast-type show would have resulted in a whole bunch of people who were not the creators of Cyanide and Happiness taking ownership of various degrees of Cyanide and Happiness.

Screw that noise, I can imagine Dave, Kris, Matt, and Rob saying to themselves. Now, a show (even one on the internet) is considerably more complex to put together than an webcomic, but a year's production time for such an undertaking is practically warp speed. Progress is being made, reports Rob DenBleyker on behalf of The C&H Show team [audio, video, possibly not safe for your workplace], with a launch later this year. You know what's later this year? March. Just sayin'.