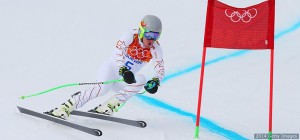 Noted by the inimitable (and very sexy) R Stevens on Twitter: Team USA skier Ted Ligety competes with Red Robot #C-63 (created by Sam Brown, but perhaps most closely associated with Stevens) on his helmet. While it makes perfect sense that Ligety would want to CRUSH his competition, I think that there may be another reason — Red Robot physically resembles the gates that he must slalom through.
Clearly the gates are themselves designed to CRUSH all in their vicinity, and Red Robot's presence acts as a sort of guarantee of safe passage. Although Ligety didn't medal in the super combined¹, I'd say coming through the runs without being CRUSHed is a pretty good consolation.
Looking forward: Dean Trippe will be doing the first of undoubtedly many con panels on his astonishingly good Something Terrible at Emerald City Comic Con next month. Specifically, it will be in Hall D, 4:40pm, Friday 28 March, and it will be moderated by Kate Leth. Programming and floor map haven't been released for ECCC yet, so there could be some changes still; let's hope that Hall D, wherever it is, is nice and large.
Looking at numbers: Almost nobody² shares more data about how he's doing in comics more often than Jim Zub (perhaps Ryan Estrada); really, the only difference is in detail, as Zub tends to scrub numbers but keep trends visible, and Estrada shares actual dollars and cents. Thus it is in his latest share, this time about submitting to comiXology and how the money breaks down from doing so.

The big conclusion I took away from Estrada's tale of submitting (and getting rejected more than accepted) to comiXology? Apple is the big winner, taking more than 25% of the proceeds while not being responsible for either the act of creation nor the curatorial/editorial efforts. Good for Apple — I hear they could use a few bucks. Sarcasm aside, there's money to be made in the infrastructure end of content industries; the only question is if economies of scale will permit anybody to ever take crumbs away from Apple's table.
_______________
¹ One part KILL ALL HU-MANS, one part kitty care.
² One should note that nobody in comics comes close to Dorothy Gambrell when it comes to detailed data sharing, but she didn't have a data dump today.