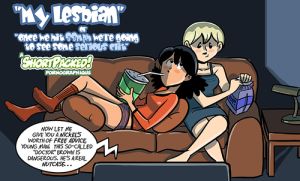 (Ho as in the sense of Yukon Ho!, not in the sense of insulting somebody as a ho.)
So David Willis made him some porns last month, and it was a huge¹ success, prompting more porns. The sequel to Walky Performs A Sex goes up on Slipshine at midnight tonight, or the moment that it becomes Valentine's Day because Willis is nothing if not romantic. As before, access to the porns will be via Slipshine subscription; it will not be available for individual purchase.
Over the last few hours there have been some discussions and backs-and-forths regarding the name of the latest porns, with the original title — My Lesbian or Dongs? Where We're Going We Don't Need Dongs having come in for … I'm not sure if I'd call it criticism, actually. More discussion as to whether or not the confluence of the ideas lesbian and no dongs was exclusionary towards lesbians that have dongs. Willis being Willis, I'm certain that it's merely a matter of time before his comment threads are besieged by those that feel that merely entertaining a discussion on the issue is somehow giving in to those who would censor/demand political correctness/aarrghglghblblargh!!².
Consensus on the issue was not to be found, and Willis changed the title — not, I'm pretty sure, because of pressure, but to clarify his intentions. Namely, if it's possible to not cause concern to any potential readers and still work in a sweet Back to the Future reference in the title, isn't that the more generous approach to all concerned³? So it was, and I don't think the humor is the worse for it.
The lesson here is not to change the substance of your work in response to complaints; that's a really good way to never produce work that satisfies anybody. It's to apply an editorial eye to your own work, and make careful decisions as to whether or not your work is conveying the message you wanted it to convey. Yes, the act of creating (or in some cases, existing) is going to enrage some people almost autonomically, there's not much we can do there … but when somebody produces a polite observation that the story (title, character, whatever) might not be taken the way you thought? That's worthy of some additional thought, and it's no different than any other circumstance where you might be called upon to kill your darlings.
_______________
¹ So to speak.
² Honestly, it's like he breeds them in a special facility or something.
³ Except for those who are going to be dicks toward Willis regardless.