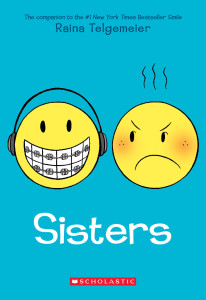 Just a hint, if you're ever crewing an ambulance headed towards a patient, the last thing you want to hear over the radio is Be advised, CPR is in progress¹. Let's find things that are infinitely more cheerful on this sunny day before the weekend brings us — what's that from the back? Repeat that a little louder, please? That's right! More snow! Fortunately, the past couple of days have brought some beautiful artwork and encouraging announcements from some veteran creators. Let's enjoy it before the fimbulvetr kills us all.
It's hard to anybody more universally respected and beloved than Raina Telgemeier, who's been sitting on the New York Times bestseller lists for her previous two graphic novels (if my search skills are strong, Drama was there for more than half a year and as of this week, the paperback of Smile has been there a staggering 89 weeks). It's just a matter of time before her next book joins them, and we can get excited starting now, since Sisters now has a cover; the visual similarity to Smile's cover ought to make everybody that has read (and re-read) the story of dental challenges rush to read (and re-read) the story of sisterly challenges.
No stranger to the Times bestseller list, Kazu Kibuishi hasn't been there for a while, thanks to last year's illness which robbed him of months of writing and drawing time. He's bounced back nicely, and also has a cover to share with us for the forthcoming Amulet 6.It's gorgeous, and the only thing about it that doesn't make me ecstatic is the wait:


Amulet 6: Escape From Lucien will be released August 26th, 2014.

Dammit! Another six-plus months!

We knew back in October that Jim Zub's Samurai Jack would be running at least ten issues, up from the initial five issue miniseries. Now comes the word that sales are justifying another extension:


Just received wonderful news from my editor- the SAMURAI JACK comic will continue through 2014, taking us to at least issue 15! YIPPY!

Folks, I cannot stress this enough — for a comic to get an extension like this is purely a matter of sales, and SamJack is a wonderful story, so there's no reason that anybody that enjoyed the heck out of the TV series² shouldn't be buying the comic. I wants my Zub, people, so make sure the sales stay strong.
_______________
¹ Much respect to our local police, who are always on scene with us, and since they're dispatched first usually beat us to the scene. They were providing high-quality compressions by the time we got up the narrow staircase, climbed over the banister and railing, and got to work in a hallway that was narrow enough to require straddling the patient in order to reach the chest. Ultimately it took three EMTs, four cops, and two medics to get the patient packaged and down the stairs, through tight corners in an old, twisty house, and out to an ambulance via slushy/icy exterior stairs and sidewalk.
² I.e.: all right-thinking people.