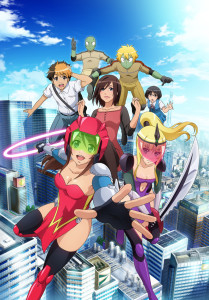 Okay, let me see if I've got this straight: ShiftyLook is a subsidiary of Bandai Namco, which through predecessor companies and associated firms, has a deep catalog of videogames going back a few decades. The purpose of ShiftyLook has been to find new ways to use the IP associated with those old games, which they've done by starting up webcomics, webtoons, and a multiplayer large visual novel-type game. That's pretty much everything they could be doing, right?
Wrong.
Jim Zub (well known to readers of this page) has been pretty involved in the development of the ShiftyLook comics (writing, scouting talent, etc), and one of his comics projects, Wonder Momo, is about to square the circle that is Momo's Wonder-Hoop.
Having originated as an arcade side-scroller, Zub, co-author Erik Ko, and artist Omar Dogan (all of whom are part of UDON Entertainment) turned it into the story of a wannabe idol singer with lots of over-the-top Power Ranger-type action¹. Now Bandai Namco are turning the new story based on the old game into an anime miniseries, with a videogame to follow. So that's a game based on an anime based on a webcomic based on an arcade game. Opined Mr Zub on Twitter:
Bandai-Namco made a Wonder Momo anime based on the comic strip story I wrote! Unveiled in Japan just now! @ShiftyLook
And there's a new Wonder Momo video game also in development based on our comic story. Absolutely surreal.
For a little more context as to what this means to Zub, check out his history with anime, and what this would have meant to his 15 year old self.
Wonder Momo (the anime series) will stream as five, 5-minute episodes on Crunchyroll on Thursdays at 7:30pm (presumably EST), starting in February. Wonder Momo (the game) is under development for PC and Android. Jim Zub (the architect of Momo's revival) probably took about half an hour to feel justifiably proud, then got back to work because that's the kind of guy he is.
_______________
¹ And, given that the protagonist, the frenemy and the protagonist's mom are all magical girls with transformation sequences and battle suits that don't feature pants, surprisingly tame and tasteful fan service. Heck, the original arcade game featured a perv with a camera distracting Momo with upskirt attempts; Zub's repurposed him into a legit photojournalist.